Newly engaged Gillian Murphy, owner of innovative company Brush Bags, talks us through what inspired her to create a hygienic and convenient handbag essential. Gillian knows weddings well, having spent years DJing at various events, weddings and launches. In 2019 she launched Brush Bags, which have gained serious kudos amongst makeup lovers and life hackers!
Here she talks to SOCIAL & PERSONAL WEDDINGS about why every bride needs to know about Brush Bags and some tips on protecting your wedding day clutch.
Tell Us A Bit About Yourself And Your Company: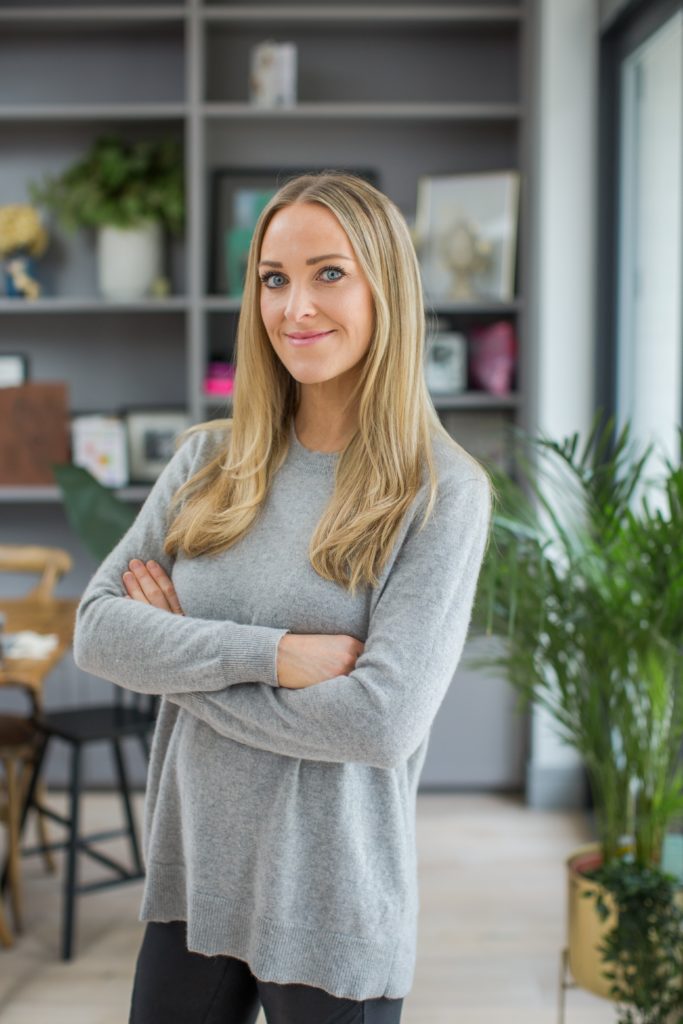 I'm Gillian Murphy, born and bred in Dublin and Mum of 2 little boys. I work in Technology by day and DJ in my spare time, which is few and far between these days with two small kids and a new business.
I launched Brush Bags from home in 2019 with just me at the helm and my partner Brian backing me.  It's been a whirlwind and, like other small businesses, tough at times during Covid-19, given no one was going out, wearing makeup or hosting weddings, which quashed our whole marketing strategy.
Now that Ireland is reopening again, we are going back to business! At Brush Bags, we endeavour to help save our planet and promote sustainability, which is why Brush Bags are not single-use and are fully recyclable.
Why Are Brush Bags A Wedding Essential?
Brush Bags are an absolute wedding essential as they're key to protecting a guests' most crucial accessory, the clutch.  Wedding clutches make an outfit but are typically tiny, expensive and restrictive.  As space is minimal and we want to protect our prize accessory, careful consideration goes into the contents of the clutch.  A powder brush is a must to reduce shine and even out makeup throughout the day. However, the brush and the clutch need to be kept separate from one another to avoid destroying the inside lining of the accessory and prevent bacteria from collecting on the makeup brush.
Brush Bags solve the problem by creating a compact, chic and hygienic barrier between brush and lining, protecting your clutch, your brush and your flawless finish. Brush Bags also double up as a mini makeup bag to hold those smaller items such as lip liners and lip gloss that always seem to pop out of your clutch on the most important days! In essence, Brush Bags are like a mini makeup bag preserving the integrity of your luxurious clutch and brushes while preventing makeup essentials from going walkies.
Where Did The Concept Come From?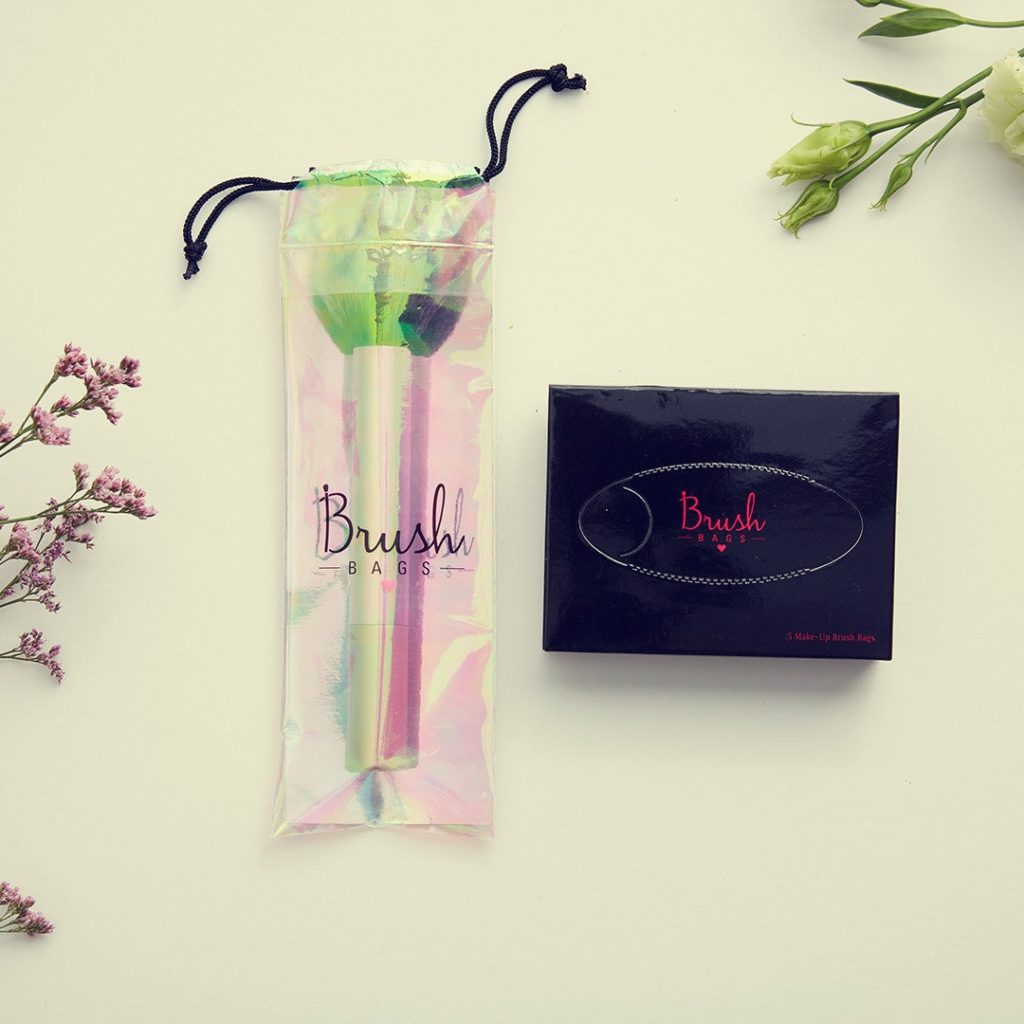 The concept for Brush Bags came about when I was DJing, travelling from gig to gig and needed to haul around my entire makeup collection for touch-ups between gigs. My makeup brushes were rubbing against handbag paraphernalia and destroying the inside lining of my bag while gathering bacteria, crumbs, and what not! My brushes were also impossible to find in the middle of a dark nightclub when I needed a quick touch up.
From these pain points, I identified a gap in the market for a compact, chic and hygienic makeup brush bag. With this in mind, I set out to design a gorgeous convenient makeup brush pouch to protect your makeup brush, your handbag and ultimately, your skin.
Brush Bags was launched in November 2019, and our mission is to have a Brush Bag in every handbag around the globe!
What Is The Best Wedding You've Ever Attended And Why?
The best wedding I ever attended would have to be my best friend's wedding because I was chief bridesmaid, and I couldn't have been prouder of the woman she had become. As a chief bridesmaid, I was tasked with ensuring she remained perfect all day, and I had my huge Emergency 'Oh Shit' Bride's Kit in the bridal suite for every eventuality. I selected the key essentials she needed for the evening and stuffed them into my gorgeous teeny tiny bridesmaids clutch: hairpin, safety pin, lip liner, lip gloss, powder brush and eyeshadow brush (as her eye had been streaming all day!). When I say the interior lining of my gorgeous clutch was destroyed from the wet tears on the brushes, I mean it was DESTROYED! I wish I had Brush Bags to save my clutch, a sentimental gift from the bride, unfortunately never to be used again. But, it was the best wedding as I was at the top table, toasting my beautiful best friend and her gorgeous groom on their exciting new journey together.
What Is Your Best Makeup Tip For Brides Or Wedding Guests?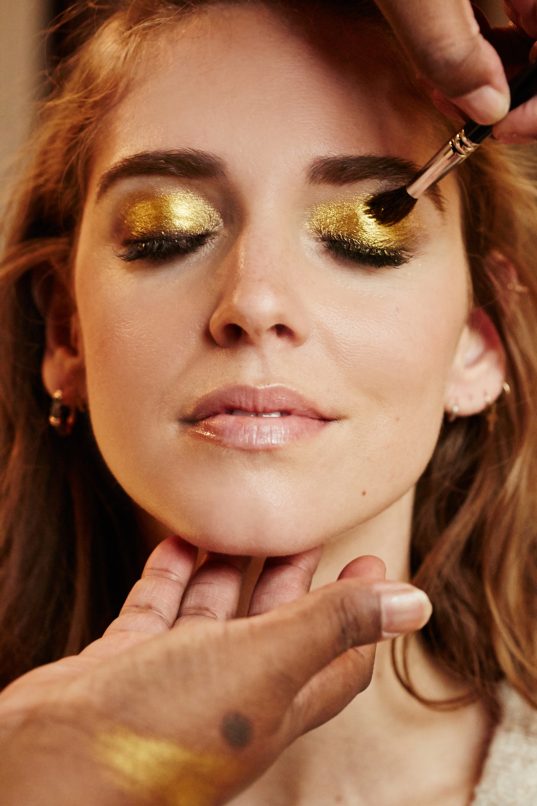 I'm a capsule kind of girl, so everything in my wedding clutch is compact. So my top makeup tip is to pop Mac 24hour Studio Fix concealer in your clutch for makeup touch-ups throughout the day, as a bottle of foundation rarely fits. The Mac concealer is similar to a lip gloss container which fits neatly inside a Brush Bag, together with my powder brush, lipstick and lip liner - and won't fall out of my clutch!
Extra tip- if you apply concealer on your lips before lipstick, the lipstick stays on longer!
I actually just got engaged last weekend, so I will be including Brush Bags in the Essential Ladies Bathroom Basket for all my lady guests...although they probably already have one!
To shop : www.brushbags.ie
- Avila