Getting your skin wedding ready has never been easier with these top tips by Jennifer Rock, the skin care expert behind The Skin Nerd.
No doubt the checklist is written and skin care comes a poor second to flowers, but while the flowers will, of course, add to the day, your skin is the canvas for your makeup – and the pictures will last a lifetime.
The main skin concerns most bride-to-be tend to include everything from spots, cold sores and tan application to redness on camera, scarring and broken capillaries. While these conditions didn't arise overnight, many brides think that a cure will be instant. And even though a lot can be done in a short time, to look your best it is advised to start a regime a year in advance of the big day.
Do not panic if you are due to get married sooner than that; a year is ideal, but as the skin exfoliates and renews itself every 28 days, in skin talk, every month is a fresh chance to repair the damage – and of course, the more months the more opportunities (same as the gym!).
To start, make a conscious effort to choose healthier food options, dietary choices dictate the metabolism and health of skin and so will what you put in will be reflected in your complexion. Remember, flash dieting and restricting your food intake without proper consultation can mean that you will lack in certain nutrients and this, in turn, may affect your skin. Eat healthily and in recommended portions, and both, your skin and waist will thank you. If you suffer from eczema, psoriasis or acne, consider intolerance testing, as these skin conditions can be exacerbated internally by food that we eat regularly. In terms of nutrients and possible supplements; Omegas, Vitamins A and C, as well as probiotics, are my holy grails and will help boost the skin and over time improve your overall appearance.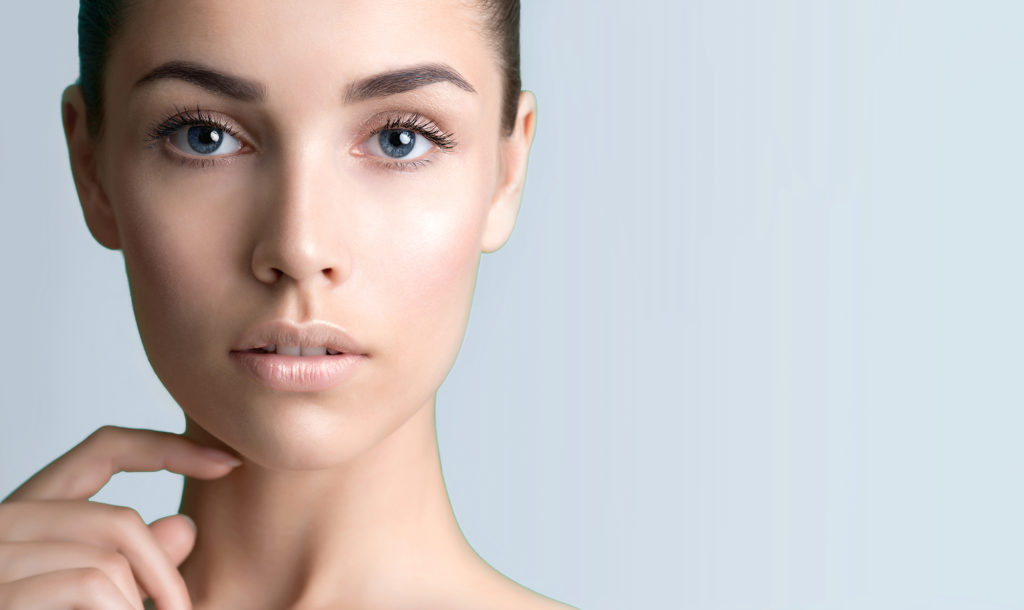 12 months
I would tell all brides-to-be to consider micro-needling, this treatment causes mild trauma to the skin that in turn triggers new collagen production to give a rejuvenated look. Be warned, the results can take up to six months to become apparent, so this is not a last minute option. Also, for optimum results, you should follow an advised skincare programme that is tailored to your specific skin care needs and will work in conjunction with the treatment.
9/6/3 months to go
Working within this timeframe, I would advise all brides-to-be to try and schedule in as many regular facials as possible. With so many options available it is important to make sure that whatever course of treatment you choose actually addresses your own skin care concern. For example, if you want to give your skin a general overhaul and add glow then try an Environ Hydraboost facial, for tightening then Radio Frequency is advised, or if you have any redness, then IPL will help reduce, if not completely eliminate all signs of this.
1 month to go
Do not try anything new this month, unless of course, you have been advised by your regular facialist. This month is the month to focus on increasing hydration and vitamin intake, so drink up and continue taking those supplements. Be sure to eat well and hit your 5 a day. If you have tried one before, then a gentle and hydrating facial is perfect preparation.
1 week to go
It's the week before your wedding. Everything should be pretty much finalised so it's time for you to get some rest and relaxation. Book a massage and have a final facial. Again, only have this facial with your regular facialist and under their advice.
1 day to go
Use a hydrating mask and your regular skincare regime - nothing should be new so make sure you have tried the mask in advance and have had no reactions. The day before is exciting but it can also be stressful; so remember the skin is more prone to sensitivity and reactions when stressed. Make sure to have a spot remedy on hand just in case. Ultimately, it is time to take that relaxation to the next level. Have your pre-wedding manicure and pedicure and take the rest of the day off.
Things to remember: Get an early night. Tomorrow will be a long day and you want to be in top form.
The morning of the wedding
Your skin should be at its absolute best, so the morning of the wedding simply cleanse your skin thoroughly, apply serum and a matte primer. Relax and enjoy the day ahead.
Afterwards
Remember all the investment you've put into your skin in the run-up to the wedding. Don't let this go to waste. Remember that the skin is an organ and you need to keep up the good work if you want to maintain your results.