One of the latest wedding décor trends we simply can't ignore is hanging flowers. This creative and innovative new way to decorate your stunning reception will have your wedding looking breath-taking and smelling sweet.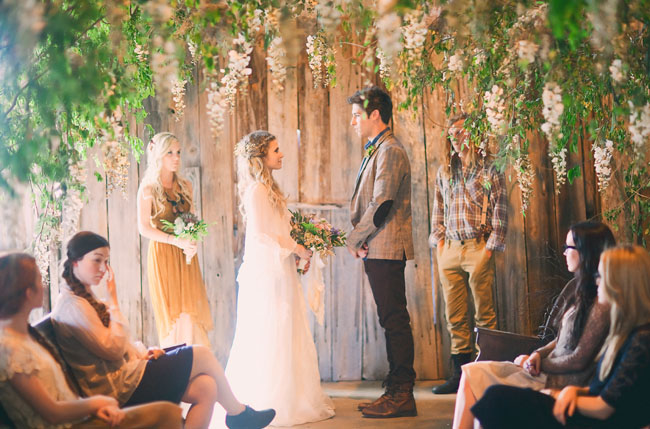 Turn your gorgeous flowers into chandeliers and wall decorations to give your wedding into a gorgeously natural, earthy wonderland.
Have flowers suspended above your tables in lieu of centrepieces or have them completely take over your ceiling in a frenzy of floral beauty.
In terms of new wedding trends, this is definitely one of our favourites. Aside from having your flowers cascading from the ceiling, you can also stick your individual flowers to the walls using washi tape.
A floral wall is inexpensive to create and it's the perfect way to create a backdrop that is completely unique, not just for pictures, but perhaps for behind your dessert table or wedding cake?
Image credits: Ceremony: Three Nails Photography via Green Wedding Shoes | Baskets: Pinterest | Flower box: Our Labour Of Love via Ruffled | Hanging flowers: Pinterest | Pink flowers: Intimate Weddings | Wall flowers 1: Handmade By Sarakim | Wall flowers 2: Gardenias & Mint