As they say, the devil is in the detail, and never has this been truer than when it comes down to your wedding programme. You can have it all without the hefty price tag though. All you need is some creative thinking and a splash of personality.
Chalkboard programme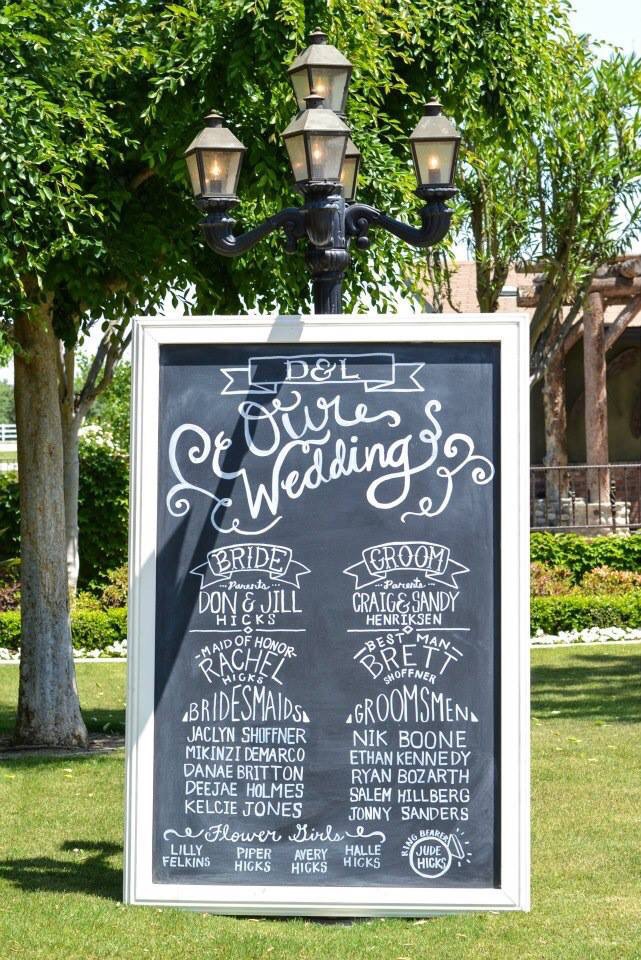 Simple, cheap and cheerful! Be on the lookout for a large chalkboard and position it were guests will be arriving so as to catch their eye.
Crossword puzzle
Advertisement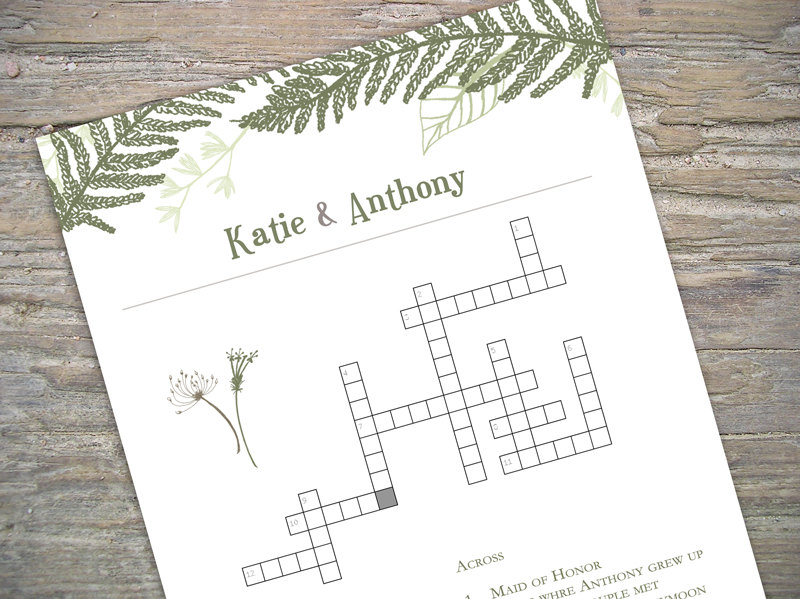 This is definitely one for couples who have that bit more time on their hands. A fun idea is to hide buzz words relating to the day such as 'love', 'wedding' or 'matrimony' within the puzzle to keep guests entertained.
Passport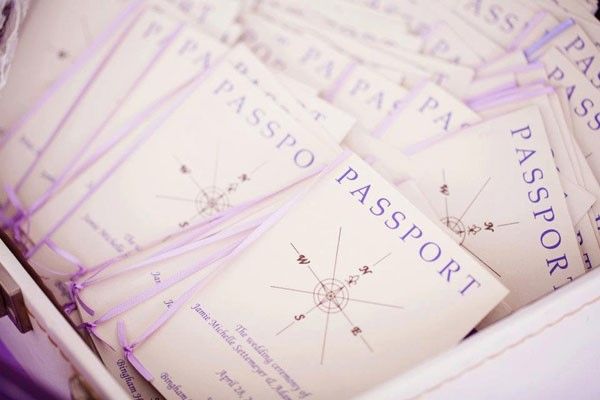 If you're deciding on a destination wedding, why not create passport designs as your wedding programme?
Illustrations
Advertisement
Bridal party drawings such as the silhouttes of each member of the bridal party are hot on Pinterest right now and prove a fun keepsake.
Silhouette programme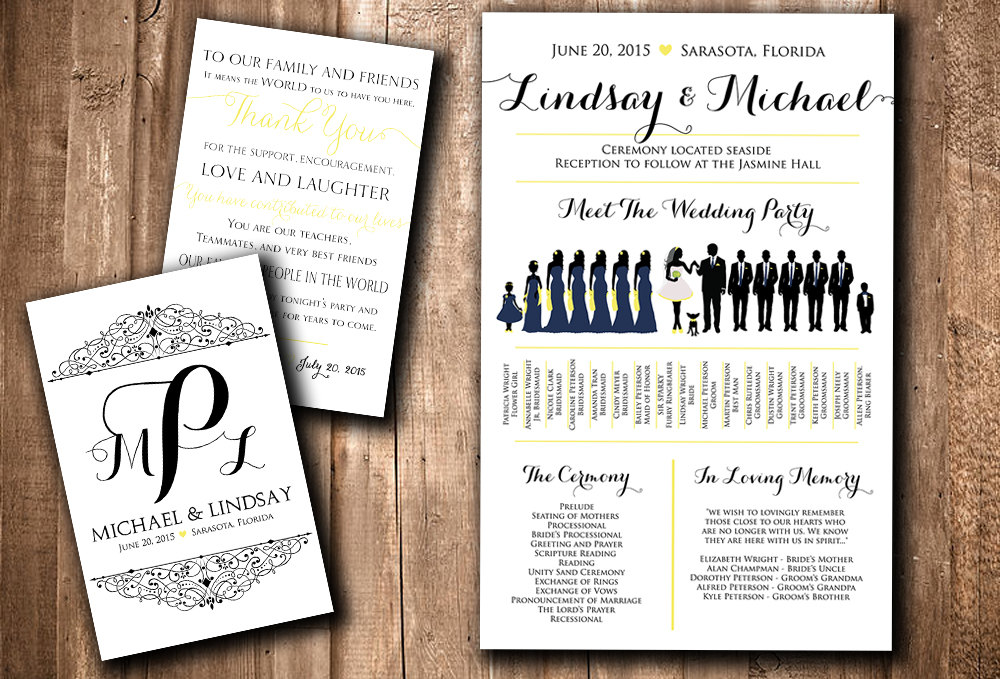 Tying in with the previous silhouette idea, why not keep it simple with just yours and the grooms profiles on the front page, making the day completely and utterly about you!
Carnival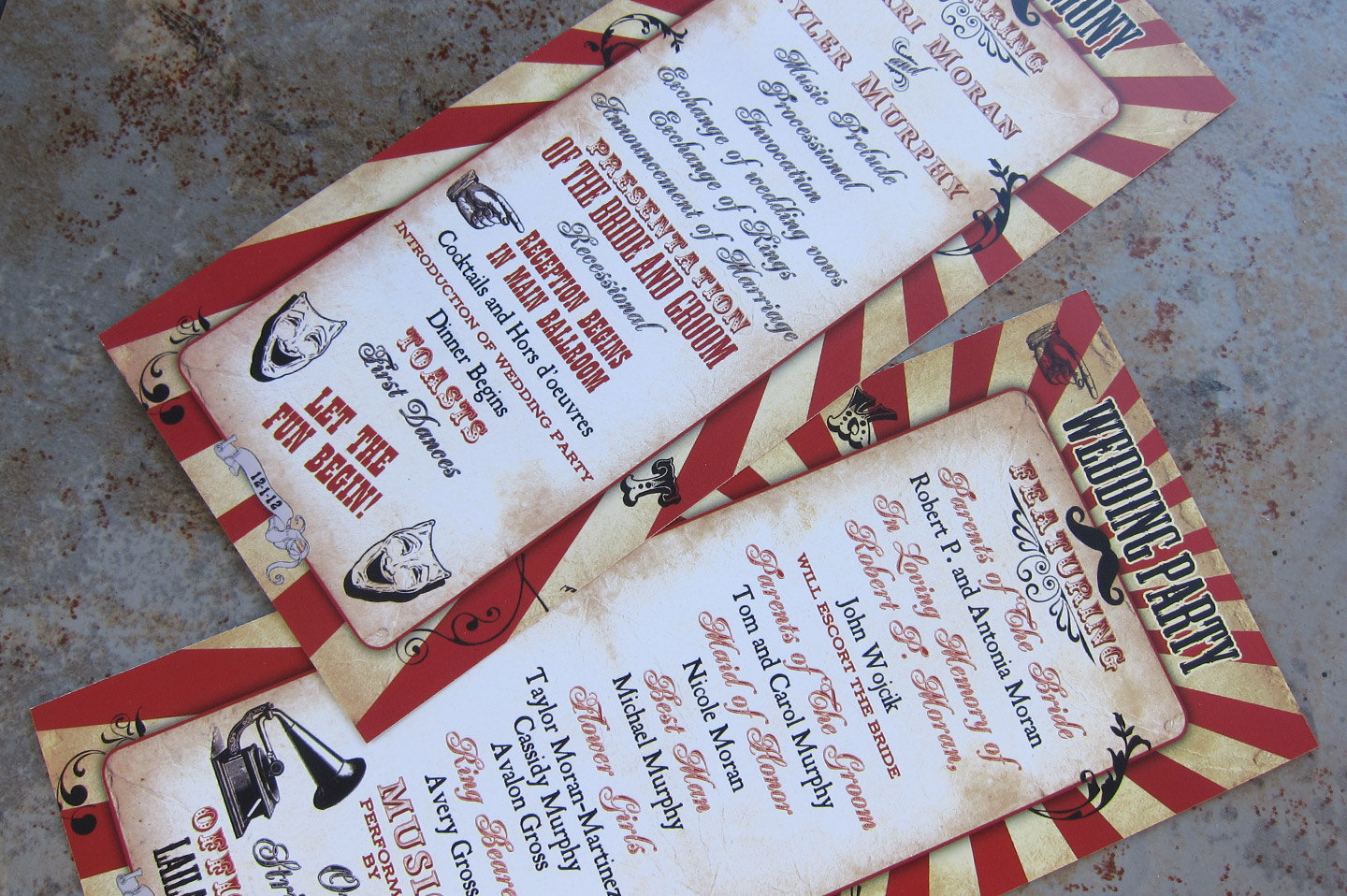 What a quirky, fun idea to display your wedding programme as a carnival theme. Definitely an idea for the offbeat bride!
Advertisement
Favours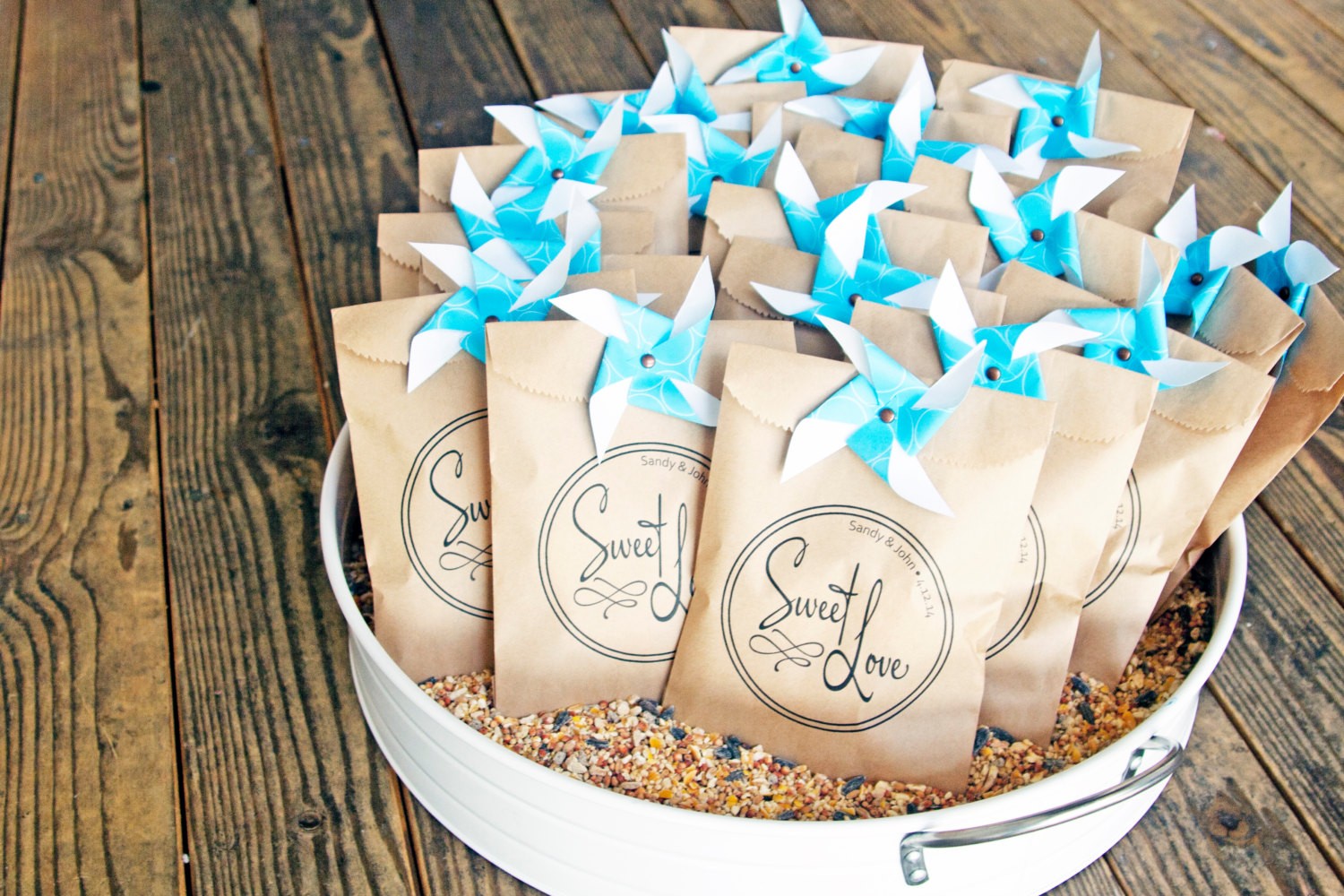 Tie in your wedding programme with your table favour. For example, attach some bubbles to the programme to use on the day or as a keepsake. This is perfect for the couple who wish to keep it sweet and simple.
Paper bag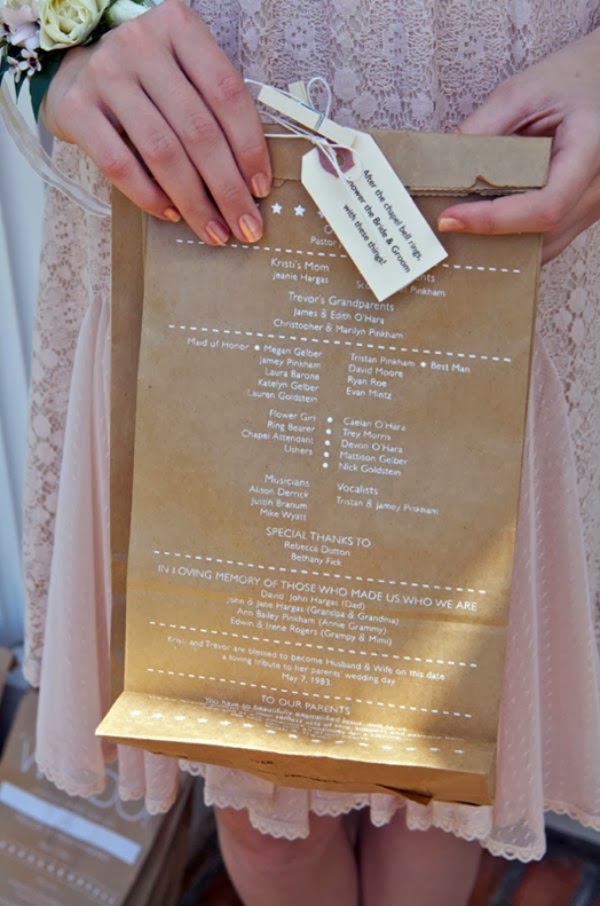 The idea of printing your wedding programme on  a plain, brown paper bag is certainly cost effective. Fill the bag with confetti for the guests to shower the bride and groom in when they say their 'I dos.'
Keep it cool
Advertisement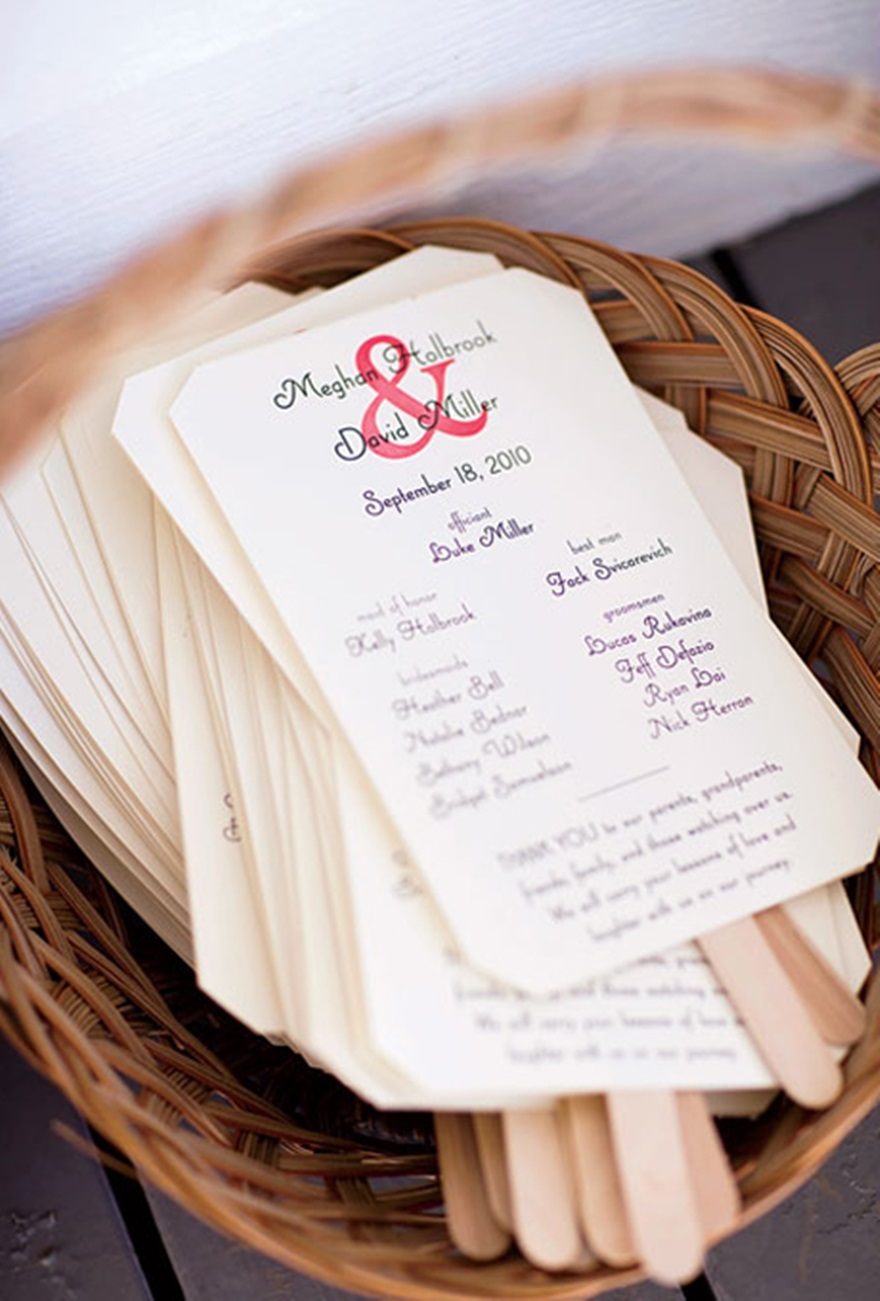 If you're choosing to have your wedding abroad or staying in Dublin's fair city for summer time nuptials, why not double up on your wedding programmes by using them as a fan? Guests will certainly thank you for cooling them from the scorching sun.
Get creative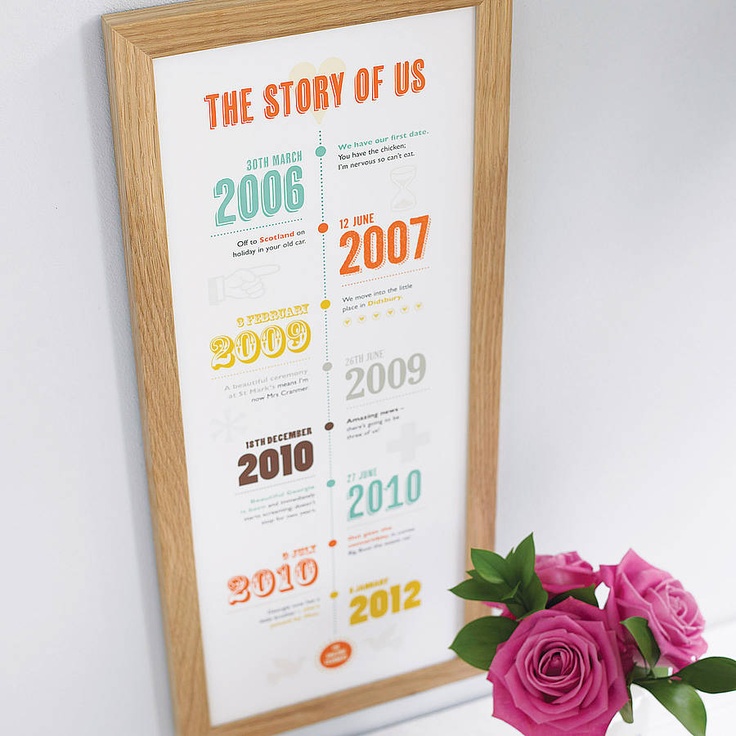 If you have plenty of time to plan your wedding day, then use it to your advantage. Have fun with your wedding programmes by creating a timeline from the minute the couple met, right up to the proposal. What an emotional keepsake for you and your guests to have, so it may be a good idea to have some tissues to hand.
- Michelle Storey
Image credits: Chalkboard: Mirrored Creations | Crossword: Luulla | Passport: Etsy | Illustration: Bridal Guide | Silhouette: Etsy | Carnival: Etsy | Favour: Etsy | Paper bag: Joel Loera | Fan: Corbin Gurkin Photography | Timeline: Not on the High Street
Advertisement