One of the sweetest things about planning your big day is choosing a baker and designing your dream wedding cake together. Mary Toner from Bakers + Cakers guides us through the process of booking a cake tasing and who in the business do the best tasting boxes.
Schedule Your Wedding Cake Tasting Early
Bespoke wedding cake designers do not have the capacity to provide samples or do tastings on the fly. Whereas you may be able to provide little notice to large bakeries or when you're planning your big day in other parts of the world, boutique bakers tend to do batches of samples a couple of times per year. These are then divided up into sample boxes for the lucky couple or their party to try.
At Bakers & Cakers, our bespoke wedding cake designers each have their own process and while not everyone does tasting boxes, we've taken some of the guesswork out of it by selecting a few bakers we know who make wonderful boxes and beautiful cakes. If you see something that piques your interest, reach out to the individual caker for more information.
Where to Get the Best Wedding Cake Tasting Sample Boxes in Ireland
1) Jennifer Walsh Cakes
Looking for a cake that is reminiscent of an Haute couture creation? Then Jennifer Walsh Cakes is the lady for the job. Not only is Jennifer a qualified architect but she can also boast to her resume that she trained under the one and only cake legend Maggie Austin. Her edible art pieces are designed and handcrafted using only the finest selected local ingredients and are uniquely tailored to her discerning clients visit her Bakers & Cakers profile page.
2) Bluebelle Cakes
Looking for an award-winning designer? Bluebell Cakes is it. Since 2014, Anna has been creating some of the country's most stunning bespoke wedding cakes and has even been featured in publications like Confetti Magazine and Limerick Brides Magazine. Her skills know no limits, from naked cakes through drip, ombre, metallic, and floral designs. To see more of her work or to submit an enquiry, visit her Bakers & Cakers profile page.
3) Cove Cake Design
Cove Cake Design is what happens when someone discovers a passion for baking and designing and dives in headfirst. Suzanne launched her company in 2013 and has been winning awards ever since. Her designs are typically more classic and understated, which lends itself well to her other passion—crafting unique flavour pairings. One of her more recent releases is lime, white chocolate, and pistachio, which has instantly become a fan favourite. Head to her profile to learn more or submit an enquiry.
4) Cupcakes and Counting
Jen of Cupcakes and Counting uses nature as her inspiration for stunning wedding cake designs. "I like recreating nature's blooms and turning them into edible art", she gushes. Her handmade sugar sculptures are so beautiful they could easily be mistaken for the real thing, though she also knows how to elegantly weave in metallics and sparkle for that extra oomph. View some of her gorgeous creations and submit an enquiry from her profile page.
5) Something Sweet Malahide
If you're looking for an Italian-inspired wedding treat, Something Sweet Malahide is the best place to start. Barbara works with traditional recipes and has a menu full of mouth-watering Italian bakes, buttercreams and ganache, while cake styles are so unique they're hard to pin down to a single label. Each truly represents the personalities and preferences of the lucky couple.
6) The Cake Cuppery
Cat of the Cake Cuppery developed a passion for baking as a child and has been perfecting her craft ever since. She's won tonnes of awards and is routinely featured in media for her unique designs. While she can create elegant and understated pieces with the best of them, Cat's the one you want if you're going for something quirky or over-the-top. She crafts the most amazing desserts, from full wedding cakes through cake pops and cupcakes as well, so she's also an excellent choice if you're looking to fill a dessert table too.
7) Trace of Cakes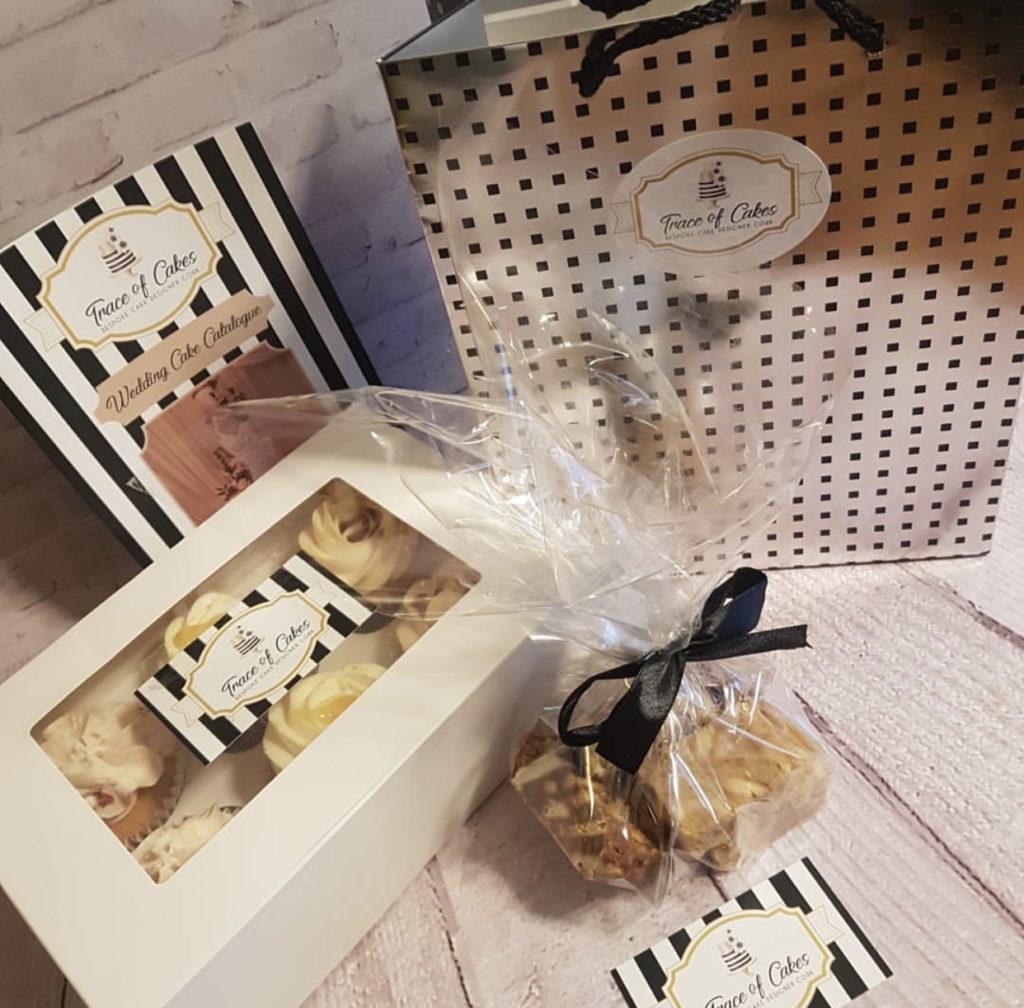 Tracy, the mastermind behind Trace of Cakes, is such a talented cake artist that she attracts a worldwide following. With numerous awards under her belt and even celebrity clients, Tracy pushes the limits of cake design. Her hand-painted and sculpted pieces are second to none. They're bold, imaginative, and most of all, beautiful. "If you can dream it, I can bake it", she says. To view some of her work or to let her know what you're envisioning, visit her profile.
8) Wild Sage Bakery
Yes, you can have a vegan wedding cake! Everything from Wild Sage Bakery is made from natural ingredients and is 100% plant-based. Best of all, their creations are absolutely breath-taking and delicious too. "Our wish is to create food that is nourishing for your mind, body, soul and the earth", they say. What a beautiful way to celebrate the start of a new life together. Visit their profile on Bakers & Cakers to submit an enquiry and see just how stunning a vegan wedding cake can be.
About Bakers + Cakers
Bakers & Cakers leverages unique technology which makes searching for the right bespoke cake a breeze. Just run a quick search by speciality, location, or occasion and explore a wealth of HSE-Certified bakers who can see to your needs.
Or, not 100% sure what you're looking for? Begin by browsing their Pinterest-style inspiration boards, then save your favourite cake maker or cake to your personal account, so you can find them with ease when you're ready to order.
Best of all, when you order through Bakers & Cakers, you're not only getting custom hand-made treats, a personalised service and a guaranteed HSE registered cake maker but you're supporting local small businesses.
Image Credit:
Portrait Image on Homepage : Cupcakes & Counting | Landscape Intro Image: Delish Melish