We've trawled through Pinterest, scavenged wedding blogs and even visited the odd craft store or two to find you the best DIY ideas for your wedding. What with having the option to inject a bit of the your personality into the décor - not to mention saving that little bit extra on expenses - DIY wedding favours and decorations are a great idea. If, however, like most brides you find yourself getting worried about time constraints or even doubting whether or not you have the basic skills necessary to become a craft queen, don't fret. With our careful selection of the perfect little projects from around the web, you can pick and choose among them which ones are your favourite and look like the most fun for you try out for your wedding day – without tearing your hair out.
1. Wedding confetti poppers: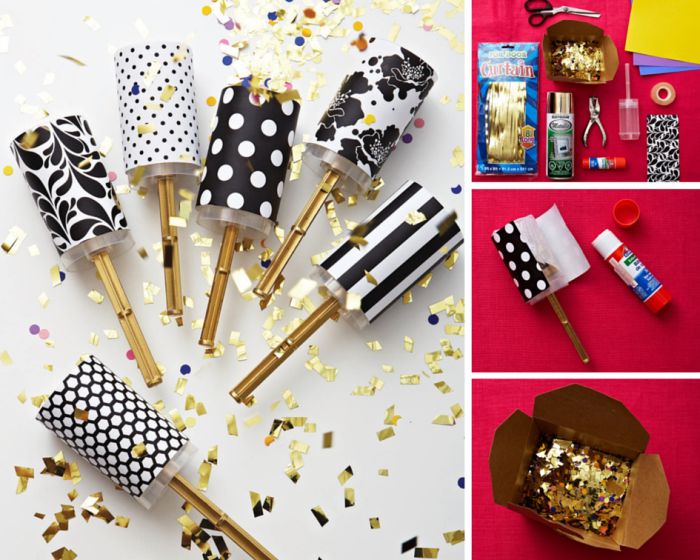 Fun, and always a crowd pleaser, these popping tubes of confetti will lighten up any wedding day. For the after-ceremony dash or to simply kick off the party, you can hand out these poppers to guests to do with as they please. Make them as colourful and as stylish as you want, these popping favourites are very easy to make with little tools and time required. See how to fashion your own party popper with its very own downloadable design template here at Wedding Bells.
2. Kids table package: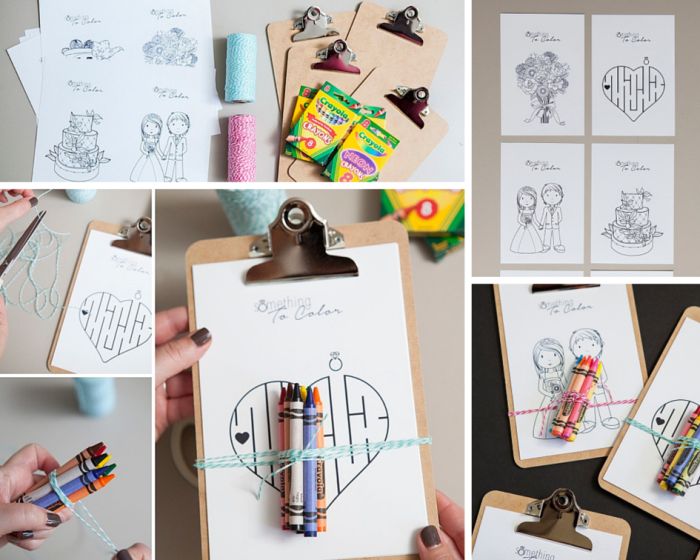 This is one that's entirely dependent on your choice of kids or no kids at the wedding. If you do opt for having the little rascals at your party, then you no doubt know you'll need to keep them entertained. The longest part of the wedding day for youngsters would be both the church ceremony and the sit down meal. These small compact and easy to make activity kits are the ideal pastime for children who might get a little antsy or bored during these times. It's also a great way to show guests that their kids are being catered for as much as they are. Create this fun-filled activity pack here on Something Turquoise.
3. DIY ring bowl: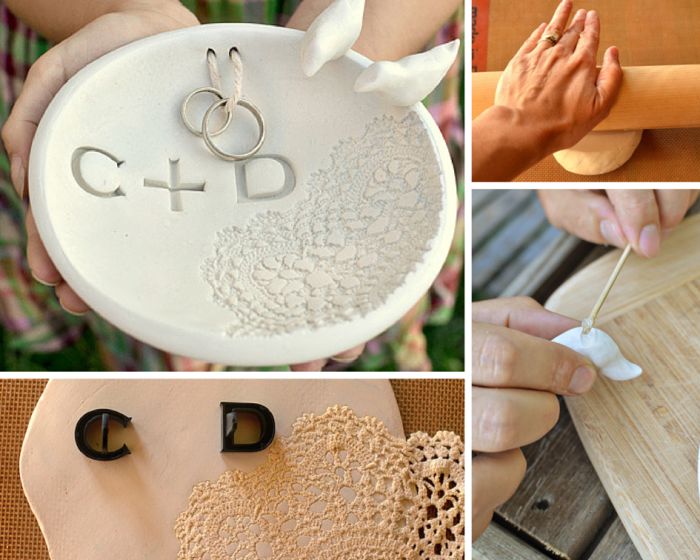 A very romantic personal touch, this thoughtful ring bowl is the perfect handcrafted centrepiece. A very easy, straightforward process is involved in making something that looks quite professional.  You could even make it a surprise gift for the husband to see when he reaches down to place the ring on your finger. With your own engraved initials and whichever lace pattern you like imprinted on the inside, you will not only be showing off your rings that night, but the bowl that they came in. Take a look at how it's done here on Intimate Weddings.
4. Wedding programs with fan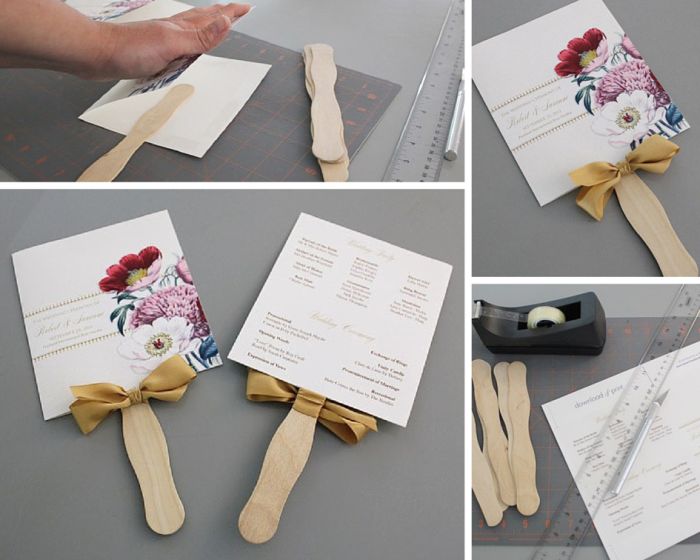 We have to admit, this one we absolutely love. Inject a little bit of that Southern belle hospitality into your ceremony among your guests with these wedding program/personal fans. For many people, a wedding program is a must have – but a must have that can often be overlooked or disregarded within seconds of reading. With this intuitive fan fashioned out of all the information your guests need, it will be sure to find its way home in many purses once the night is through.  Create your very own fan programs here on Sweet Violet Bride.
5. Light up letters: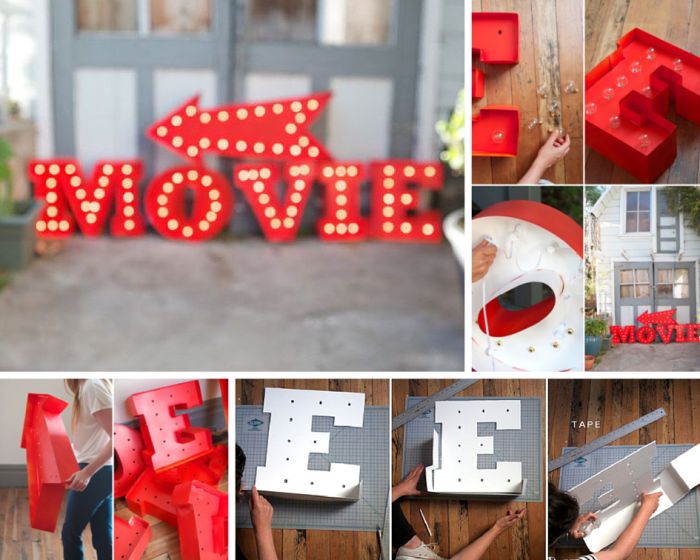 Who doesn't love those classic light up marquee letters? Hugely popular lately, and most commonly used to either spell out the couples initials or the word love, unfortunately these wedding favourites don't come cheap. Thankfully, we have found the perfect DIY tutorial allowing you to make these letters entirely on your own accord and in your own time. Not as difficult as you may think fashioning huge light up signs would be, this is a step-by-step guide that will see you through to the end. Create your own show-stopping centrepieces here on Oh Happy Day.
6. Sparkle balloons: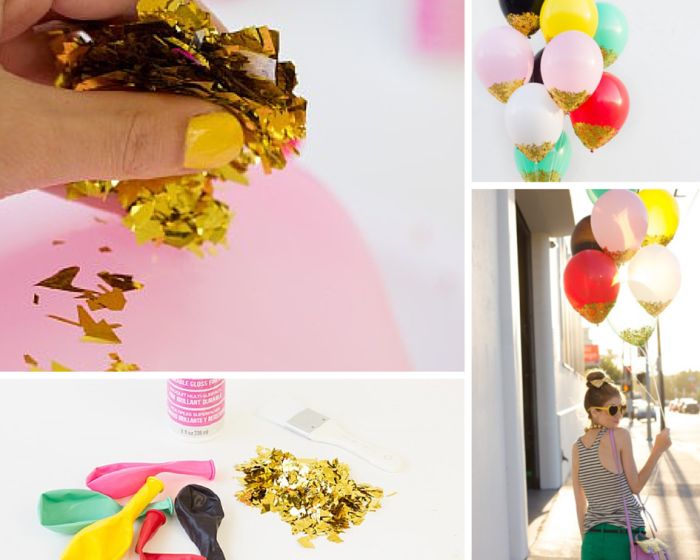 For the perfect glittering touch, dip your wedding balloons into sparkling confetti. This DIY idea is perfect, as it will suit any or all themed weddings. Whichever the colour of the balloon, you can dictate the shape and pattern of the glitter – if you want just a light dusting or for it to be fully submerged. Better yet, have these shimmering party pieces either floating along the ceiling or bouncing along the dancefloor. See how to here at Studio DIY.
7. Personalised aisle runner: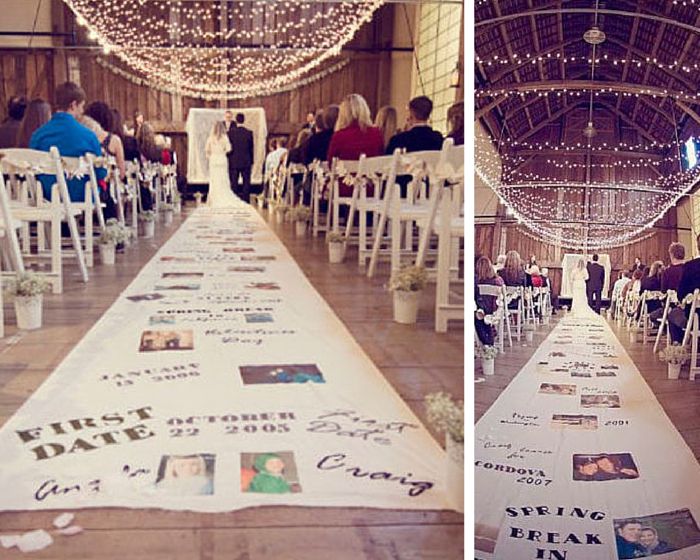 This one is perfect for those of you who want to add a personal touch to your ceremony (with permission of course). Rather than sticking with the typical decorations like that of ribbon and flowers, have an aisle runner bring attention to your love story as you make your way up to your future husband. You can choose to either have your favourite poem inscribed, tell the story of how you two met, or have your fiancé write his own personal message for you to read on walk up the aisle. Sentimental and beautiful, see how to create one here at Oh Lovely Day.
8. Rope signs: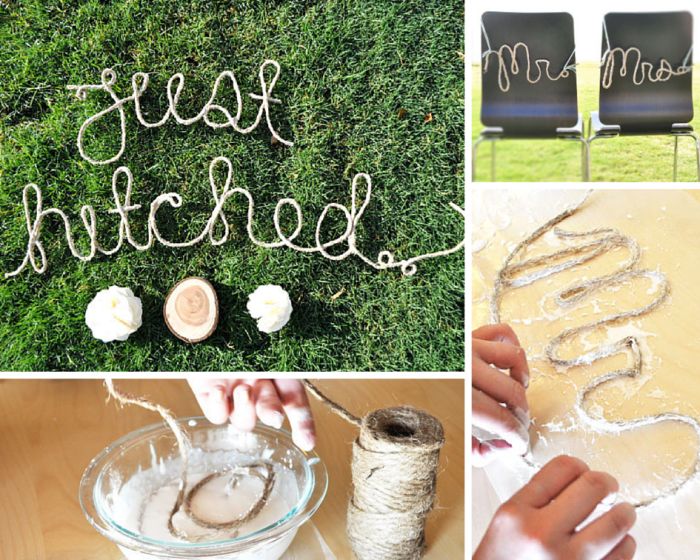 These are an authentic and admittedly adorable handmade decoration for your wedding party. With almost minimal time and mess, you can weave together whichever message or saying speaks from the heart. Make it a rustic wedding feature in the form a Mr and Mrs to hang from your chairs, or make it a stringed thank you banner to photograph and send to guests after the big day. See how you can make one here at Green Wedding Shoes.
9. Groomsmen kit: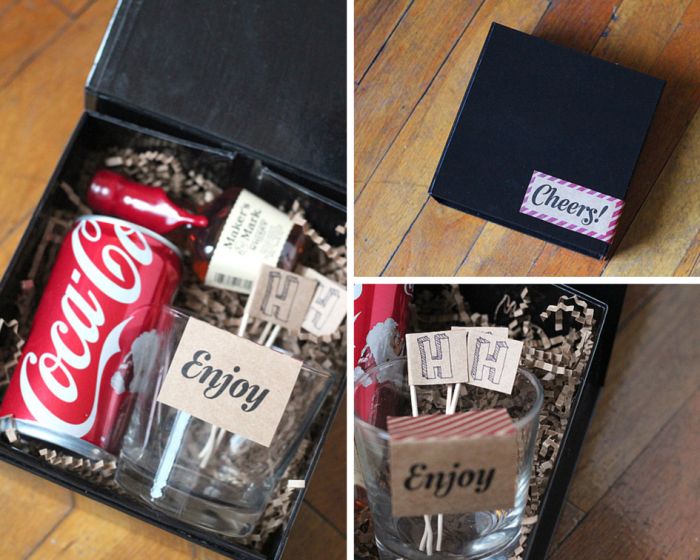 The perfect gift to give someone that says not only do I appreciate all the help you've given me on this special day, but I also took the time to show you. Relatively easy to throw together, this whiskey and coke cute combo is a perfect gift for the boys. Or even for a cocktail-in-need mother of the bride who has put up with a lot of tears and would like to unwind after the wedding. Regardless of the intended recipient, this gift box is sure to go down a treat. See how to make one and download the free label templates here on Ruffled Blog.
10. Bride and groom clothes pin: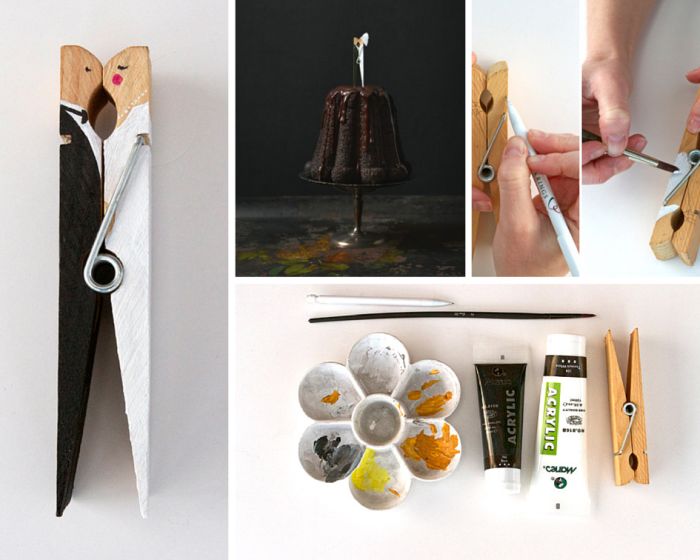 An exceptionally cute DIY project, this unique take on an everyday household item will have your guests melting. All you need is a couple of clothes pins, a bit of paint and tad-ah, a masterpiece fit for atop your wedding cake. Not only do these kissing clothes pins make the perfect cake topper that you can brag about all night, they also come in handy as cupcake adornments, favour bag ties and many other possibilities. Create your very own kissing couple here at Brooklyn Bride.
- Roisin Curran