From the first impact to the all-important aisle and of course the altar itself, we bring you the details which will make all the difference in your Ceremony Décor. Create a stylish scene for the backdrop as you say, 'I do'.
Welcome Sign
First impressions count so kick off the celebrations with a simple sign welcoming guests to your wedding with both of your names and the date. Something so minimal and easy to do will set the tone from the start.
Secret Garden
If you're planning an outdoor ceremony, we love the idea of transforming the space into your own secret garden. Enter through a floral arch before sashaying down a flower-filled aisle before reaching your beloved and exchanging vows surrounded by a mass of petal perfection. Greenery is vital to this idea to pad out the florals and achieve the more natural garden look.
Floral Circle
The circle is a symbol of infinity and everlasting love, thus making a ring the perfect emblem for two people embarking on a life together. With this in mind, we love the idea of becoming man and wife underneath a floral-filled circular arch. Not only will it look picture perfect as your photographer captures this special moment, but the meaning behind it is beautiful to boot!
Trees
Dressing an indoor space to make it your own can be challenging at the best of times but this tree-lined aisle makes for a dreamy setting to make that fated walk to your fiancé. The tall statuesque trees topped with a tasteful bouquet makes for quite the impact on arrival.
Order of Events
Whether your reception and ceremony are in the same location or if there's a bit of a delay between church and reception, let guests know the lay of the day with a brief run-down of events displayed at the entrance to the ceremony. If there is a large delay between the church and the reception, it can give guests the opportunity to pick up some snacks while you're off having your photographs taken.
Mismatched Seating
Whoever said you had to choose style over comfort? Have your guest watch your nuptials in the comfort of an array of mismatched lounge chairs and settees. If this isn't practical for your ceremony, you can create a similar vibe by using a collection of coloured cushions.
Balloon Arch
From the oversized white balloons strategically placed to flower arches padded out with a mass of balloons, these are a wonderful and relatively inexpensive addition to your décor. Check out this beauty created by Early Hours for the wedding of Millie Mackintosh to Hugo Taylor.
Lanterns
There are so many different ideas for how to incorporate lanterns into your wedding décor. From lining the aisle to hanging them in trees or outside the entrance to your venue to filling them with flowers as your reception table centrepieces, don't be afraid to get inventive.
Statuesque Vases
Whether you're saying 'I do' in a church, ceremony room or outside, a tall statuesque vase filled with florals makes a big impact on arrival. Strategically place singular vases close to the entrance or at the sides of the altar or mark the beginning of the aisle with a pretty pair as shown.
Wedding Party Introductions
A more detailed take on the welcome sign, identify your inner circle with a trestle and board listing all of the wedding party from parents of the bride and groom to bridesmaids and groomsmen. This also can be a welcome reminder of any important names for guests who may have forgotten!
Rugs
Line the aisle and altar with a series of rugs to pave your way to your partner. They don't have to be all the same, mix and match for a laidback, homely vibe.
Hanging Florals
For a clean, simple look, keep the floor décor minimal and instead draw your guests' eyes upwards with a creative floral chandelier. Have your florist incorporate lots of greenery for a more natural look and this will also help lower the cost as it pads out the more pricey blooms.
Love Quotes
If your ceremony space is quite bare and you're looking to add some flair, the idea of famous quotes or song lyrics placed throughout the ceremony is the perfect option for the romantics at heart. This can be easy to do and inexpensive if either of you or a family member has nice handwriting to create the signs yourselves.
Aisle Runner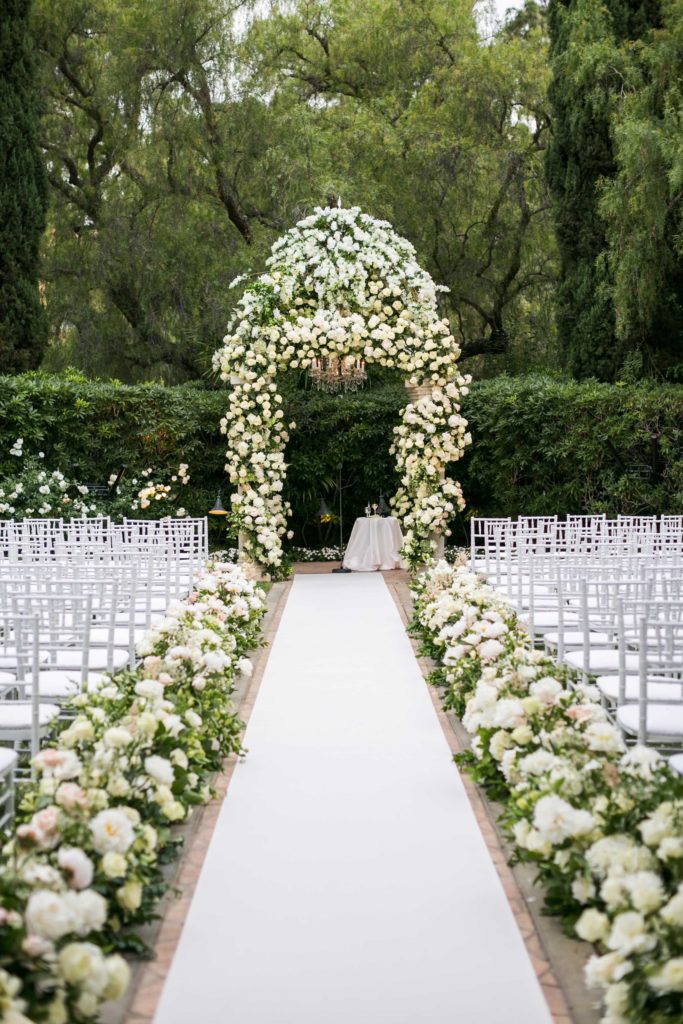 If you're not getting married in a church, don't lose the important symbolism of the aisle and ensure you map out your own walkway to and from the altar. Aisle runners can be as simple or as extravagant as you wish, whether it's a plain white sheath of fabric or a personalised creation with your wedding monogram or names etched onto it.
Raised Altar
If your ceremony space features a raised altar, make sure you make the most of it. A raised altar gives guests full view of the proceedings from start to finish so whether it's some potted plants or statement floral installations, ensure the altar is centre stage when choosing your décor.
Candles
Set the tone for a romantic winter wedding and dot candles throughout your ceremony for some soft candlelight which is universally flattering! This idea of lining the steps to guide guests to the celebrations is so simple and elegant.
- Alexandra