For many weddings, flowers are a dominant part of the décor. But none are quite as important as your bridal bouquet. It may be small, and you may not even have it for the whole day, but it's part of your ensemble as a bride and it must be chosen with care. Here are some important things you need to consider when choosing your bridal bouquet.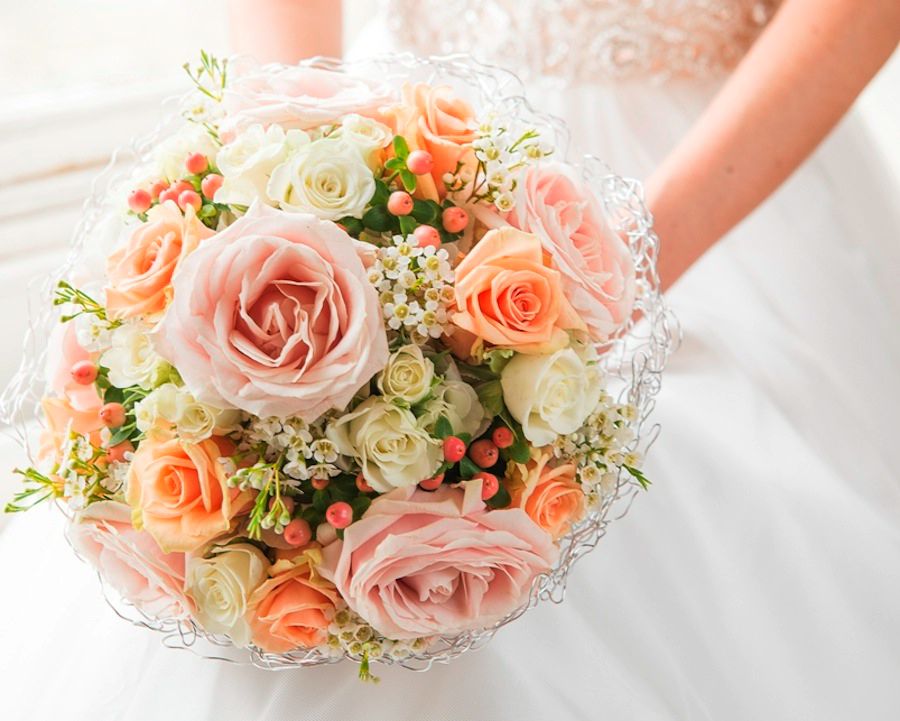 Choose your dress first
You may not think it, but the shape, material and details of your dress do make a difference to the bouquet you should choose. Bring a picture of the dress to your florist to help them choose the perfect bouquet. You don't want a big bouquet overpowering your simple dress.
Check what's in season
Just like fruit, certain flowers only bloom in spring, while others blossom in autumn. There are a number of different types of flowers that are available for every season but if you are stuck on the idea of a particular flower that isn't in season, it will be much more difficult to get, not to mention very expensive. Work with your florist to see what seasonal blooms work best for your bouquet.
Check the colour
Even if you're going for a traditional white or cream dress, the actual shade does make a difference. Is it winter white, ivory or champagne? This is where the cream colour in the flower really needs to match your dress. Make sure you know what colour your bridesmaids' dresses and general colour scheme is so your florist can coordinate accordingly.
Remember that you have to hold it
You might be attracted by a big beautiful bouquet with gorgeous cascading greenery that almost hits the floor, but remember: you have to carry the thing. Be realistic and think about what you're comfortable holding, especially with one hand. You don't want to hold it with two hands in front of you the whole time and cover your dress.
Bear your budget in mind
Go to your florist with a set budget for your flowers, and in particular, your bridal bouquet. Be up front about how much you're willing to spend so your florist can quickly cancel out any ideas they had that are out of your price range. Try not to get carried away; stick to your budget.
Be open-minded
Not just because your dream flowers might not be in season for your dream date, but because you are probably not a flower expert. Be open minded when you meet your florist. It's OK to have an idea about what you want the wedding to be like and to stand your ground on this general idea, but be flexible. You might love the pink peonies, but they could be out of your price range or they might not suit your dress. Take the expert's opinion on board.
Make your bouquet personal
Does a certain flower mean something special to you? Do you want to add in your mother's favourite flower? How about attaching a broach of your parents to your bouquet? There are plenty of ways to add a personal touch to your bouquet to make it that little bit extra special.
Are you going to preserve it?
This is something worth thinking about now, as opposed to on the night. Ask your florist about the possibilities of preserving your bouquets, as it's worth knowing that some flowers preserve better than others. Once you've decided you're going to get it preserved make sure you know the best way to go about this on the day. Have a bridesmaid take charge of getting it into water after the photographs and get it into a fridge if possible.
Don't be afraid to ask questions
Your florist is an expert. They are the person to trust about all things related to your flowers and your bridal bouquet. Don't forget to ask as many questions that you can think of.
Image Credits: Peach and pink: Vintage Floral Design | Pink and yellow: Ruffled | Garden bouquet: United with Love | Grey and peach: Bridal Guide | Butterflies: Beautiful Blue Brides | Orange bouquet: The Wedding Specialists