We can all get carried away by the notion of favours. Little mini candles or decorative jars can be distracting. But, wedding favours can be one of the biggest money wasters, if they don't mean anything. So we've come up with a list of ten favours that will be personal, meaningful, and something your guests will actually use and be grateful for.
Recipes
If you're a class-A cook or a brilliant baker, why not pick a selection of your favourite recipes and print them out for your guests on some of your fancy stationery, with a personal hand-written note about each recipe. It's the perfect personalised gift for your guests and it gives them something easy to take home and try themselves.
Personalised CDs
Another great personalised favour is a mix CD. You can make it a playlist based on your wedding playlist, a list of your most meaningful songs as a couple, or even just a playlist of your favourite songs for them to listen to. This one is particularly ideal if your guests have driven far for your big day. What better music to listen to on the way home?
Succulents
Succulents are cute little favours to give your guests. Perfect for an eco-friendly wedding, these long-lasting plants require very little maintenance and single succulents can be so small they're easy for your guests to take home and care for. They can even double up as place cards for your guests if you put their names on the jars.
Seeds
For another eco-chic wedding favour, why not give your guests a plant that they can grow from scratch? There are plenty of seeds you can choose from and then the fun part is deciding on the personalised packaging so that your guests will remember what gave them that gorgeous plant.
Soap
It's nice to give your guests something they can keep forever but it's equally as nice to give them something you know they will use up. Personalised bars of soap are a cute thing for your guests to bring home and a lovely addition to their bathroom, particularly if they've been personally carved. Imagine visiting your friends or family after your wedding only to see your wedding soap favour sitting proudly by the sink!
Matchboxes
A personalised wedding matchbox is not only handy for any smokers you might have at the wedding who forgot their lighter, but matches are one of those items that we all end up rummaging fruitlessly around the 'messy drawer' for when we really need them. After your big day, the next time any of your guests are frantically looking for matches to light up birthday candles or relax with some incense, they'll find your wedding favour.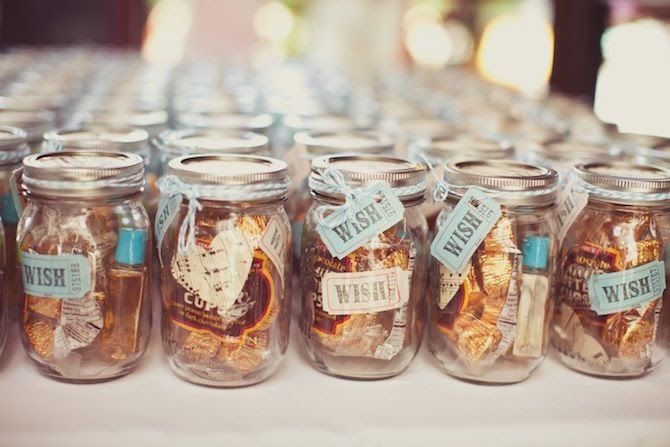 Edible favours
If you're going down the road of favours that your guests will really use, then any edible favour is always a good way to go. Anything quick, like cake pops, macaroons or cookies will definitely be eaten on the day, but also homemade jam, jars of honey or olive oil will also be taken home and used up in cooking – maybe with one of your recipe cards for a combination favour.
Sunglasses or blankets
If you're having a destination wedding in guaranteed sunshine or committing to having your special day in the depths of winter, then a function favour that your guests can use on the day might be the way to go. Offer your guests sunglasses for an outdoor ceremony in a hot country, or have a basket of blankets on standby for your guests to keep warm. Since we're in Ireland, you might want to consider umbrellas as a third option.
Donations
There's no question that a charitable donation will be used, and it's a lovely gesture that guests will appreciate without having to take anything home with them except the knowledge that a donation was made in their name.
Lotto tickets
An ingenious idea for couples who want to have a bit of fun and give their guests a potential bit of luck, why not buy each guest a lotto ticket or scratch card and put it in a nice card. You can even put your own little note to each individual guest and who knows, some of them might win big on the day of your wedding.
- Jenny Darmody
Image credits: Recipes: Pinterest | CDs: Handemade & Craft | Succulents: Pinterest | Seeds: Wildflower Favours | Soap: Ali Express | Matchboxes: Wedding Bee | Jars: Pinterest | Blankets: Pinterest | Sunglasses: Wedding Decoration Ideas | Donation: Etsy | Lotto ticket: Pinterest