We know that for many women, the thought of finally finding that special dress to tie the knot in conjures images of grand ball gowns and flowing cathedral veils, the stuff Disney princesses would be envious of. For other women, however, it means elegant tea length dresses and box cut knee grazers. In this case, we're talking about the classic that is the short wedding dress. This style of dress can often be overlooked or written off by brides for the fact that it may appear slightly outdated or boring. Short wedding dresses are actually more modern and trendsetting than you previously thought, why else would the greats such as Oscar De La Renta, Delphine Manivet and Monique Lhuillier and more create and reinvent them year after year? There is a whole host of reasons why a short wedding dress is more appealing than a full length gown, some of which are obvious concerns and others can be a bit more personal.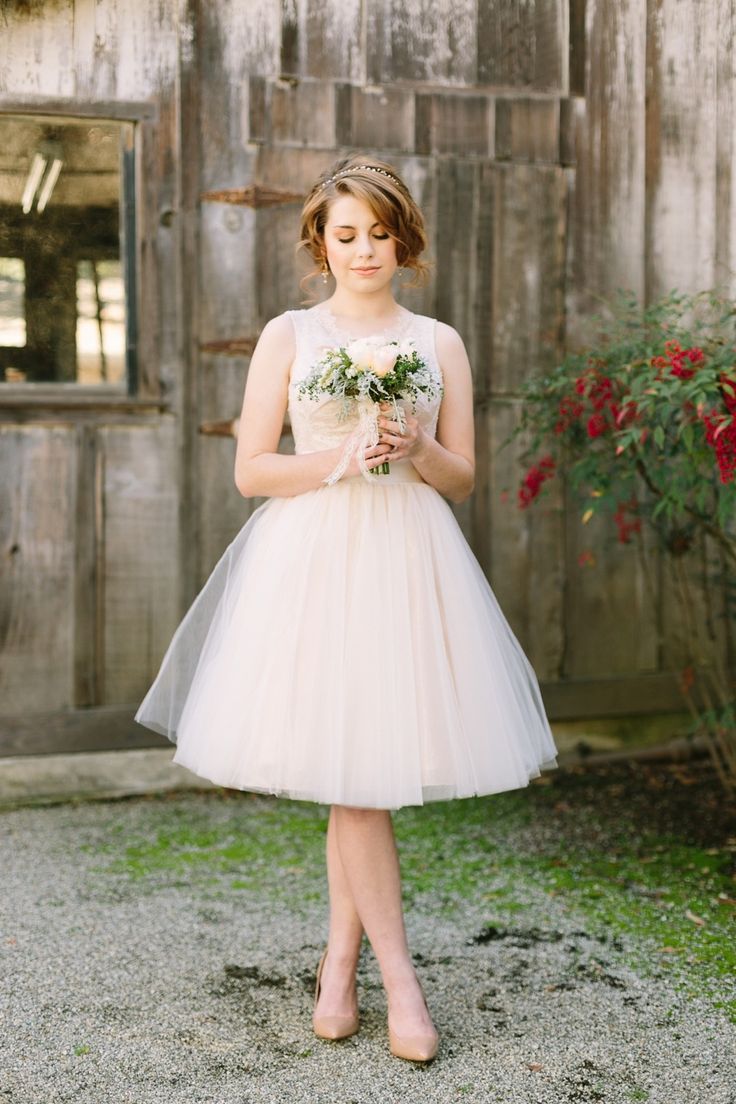 It can be more practical
it can be simply more practical to walk down the aisle in a short length gown. Many brides don't want to feel constrained by a fitted trumpet gown or cathedral trail. Others are simply in love with how flattering and complimentary a short dress is on their body type. There are endless reasons, styles and designers to go to when you want to wear a short wedding dress, and we've chosen to name a few.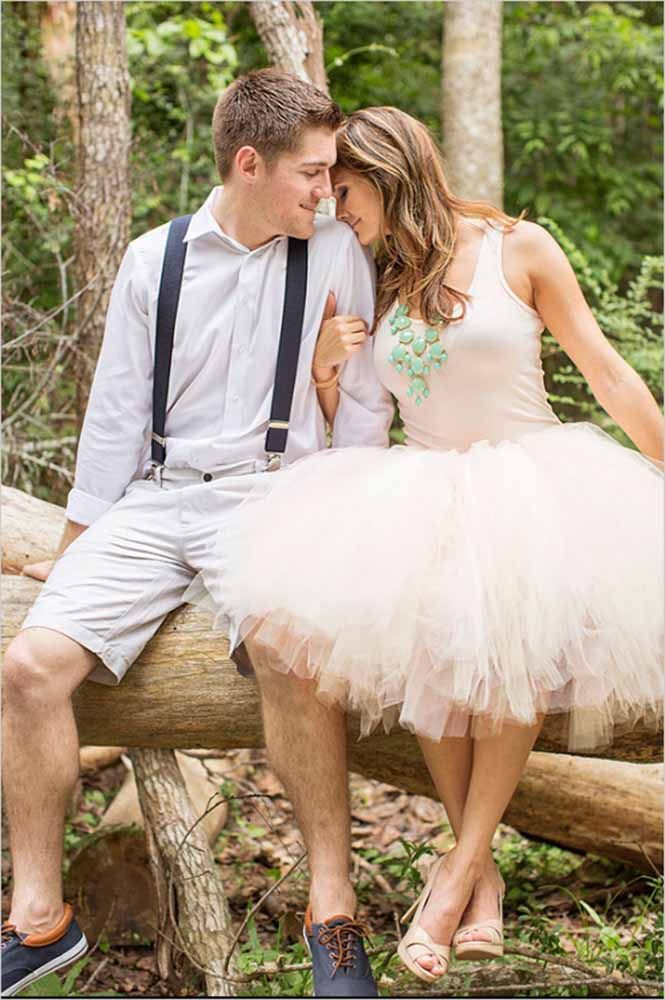 It may suit the theme of the wedding
Like we have said time and time again, the most important thing you need to consider when choosing a wedding dress is the location. A grand ball gown will fit perfectly at a church wedding or an estate manor reception, but won't do too well on a stretch of sand. When we see knee length dresses, we can't help but think open-air garden in the summer time nibbling on cumber sandwiches and sipping prosecco. It's the perfect gown for a summer wedding, particularly if you plan on having an outdoor reception. The length of the skirt will lend an elegant, refined tone to your outfit not to mention getting rid of all that extra fabric pooling at your feet will help keep your body temperature down - weather permitting, of course.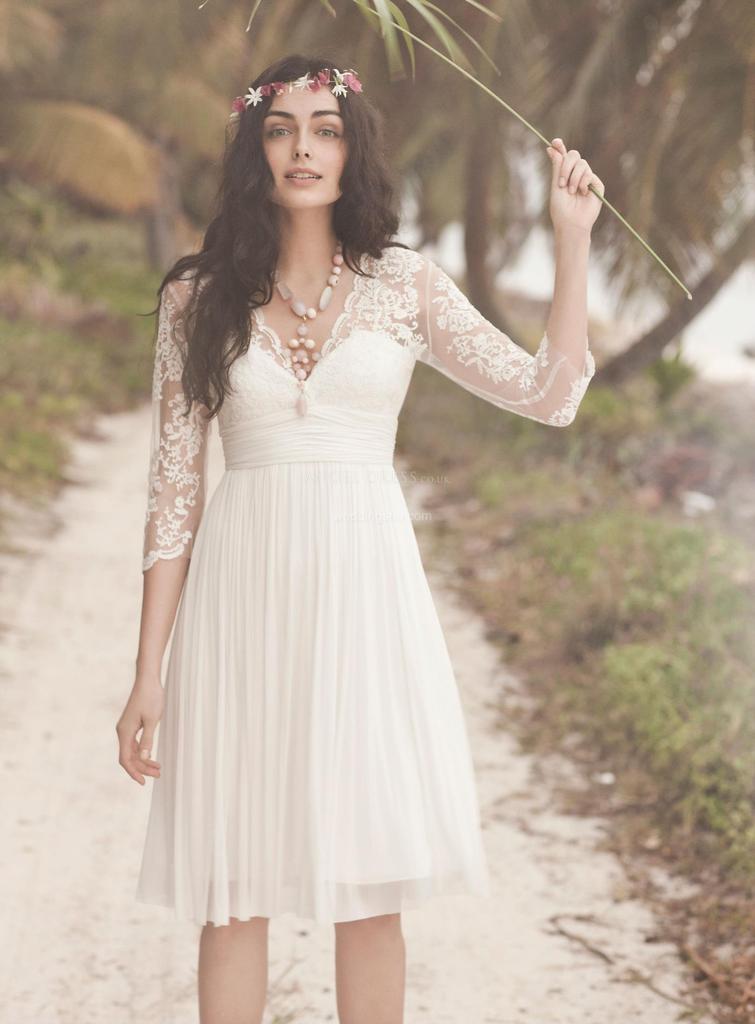 A short wedding dress shows off your shoes
The length may not be the first priority. Your wedding priority list usually begins with whatever you see most important, whether that's a particular type of silhouette you want or that you cannot even imagine getting married without a beaded sequin dress. Whatever those priorities are, they will be different for each woman. In some cases, the priority may not even begin with the dress at all – it could be an accessory. Maybe you have already had your heart set on a particular shoe since before you can remember (did we hear Manolo Blahniks?) and you have decided to frame the dress around those show-stopping, heartbreakingly beautiful shoes. For such an important accessory, the perfect dress would be a tea length gown to really have your shoes on show all day and night.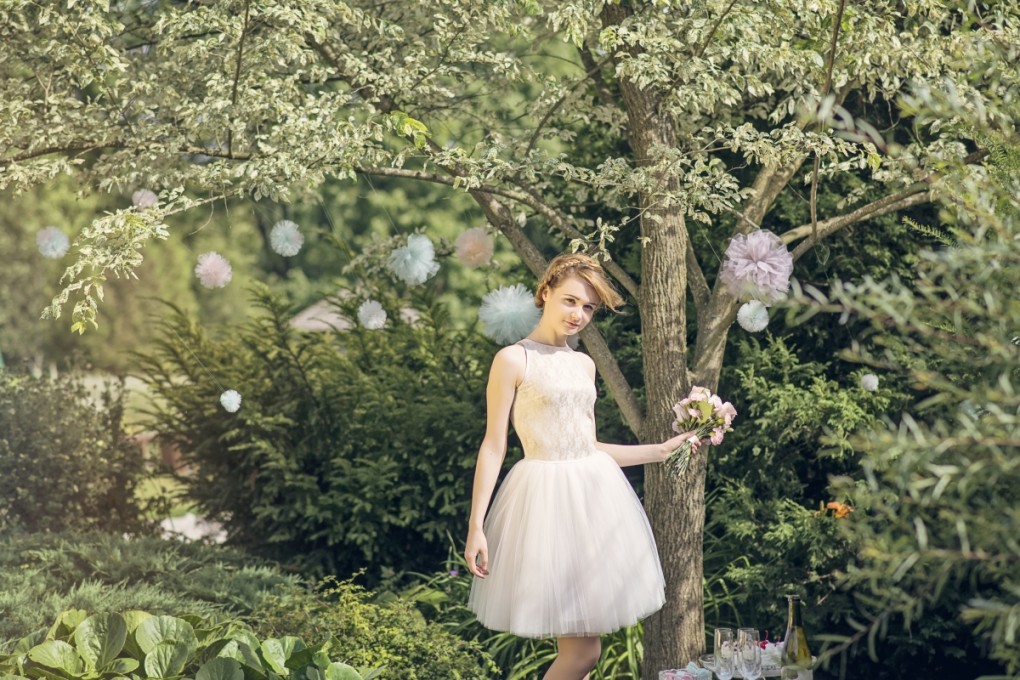 They can be even more elegant
They can be the epitome of ladylike elegance. Going back to that iconic Audrey Hepburn look, a short wedding dress can always be relied upon for guaranteeing a sense of elegance and grace. Maybe it's your second time down the aisle and you've already done the ball gown thing, and you're looking for something simpler and refined. A short wedding dress, paired with an equally stunning jacket, will have you feeling regal and stylish all at the same time. We're loving how Monica Lhuillier has effortlessly created this look with her poised and tailored shirt gown and jacket ensemble.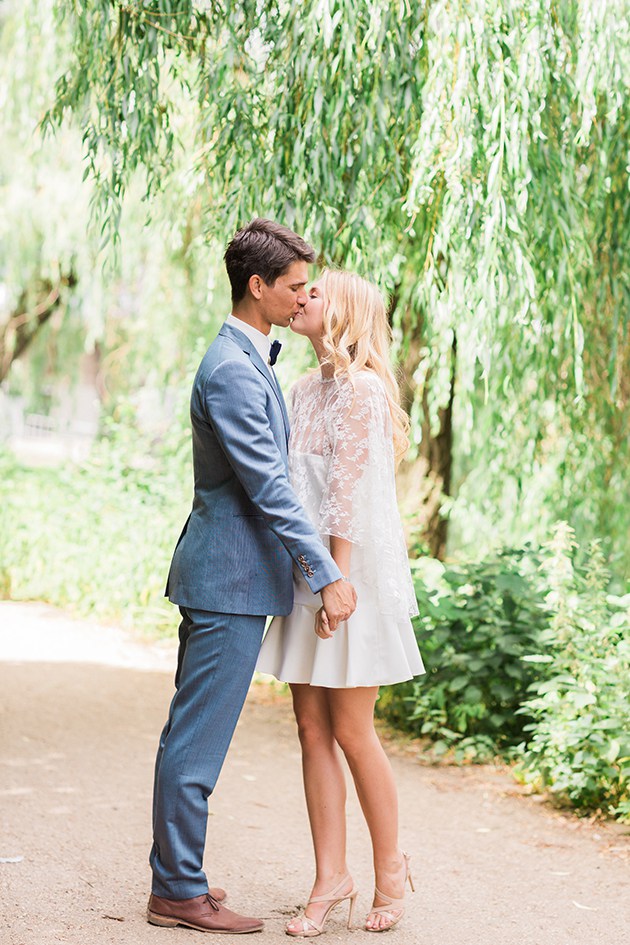 A short wedding dress can be stylish
They don't have to be overly feminine either. We know that many people fall victim to the assumption that all short wedding dresses are dainty, flowing A-line gowns. While this is an ever-loved silhouette among the short dresses, they can also have an edgier undertone to them. Short wedding dresses can come with dramatic hemlines, illusion necklines, plunging bodices and much more to give a bride a dress full of sensation and drama. Take for example this full-sleeved, short number from Monique Lhuillier. The full length sleeves and the box cut hem with a high neckline create a sense of drama, while the perfectly planned ratio of full fabric on top and bare skin on the bottom makes for a fearsome, bold bride. Another great designer who creates short, tea length gowns full of edge and attitude is Oscar Del La Renta, with his angular bodices and structured skirts.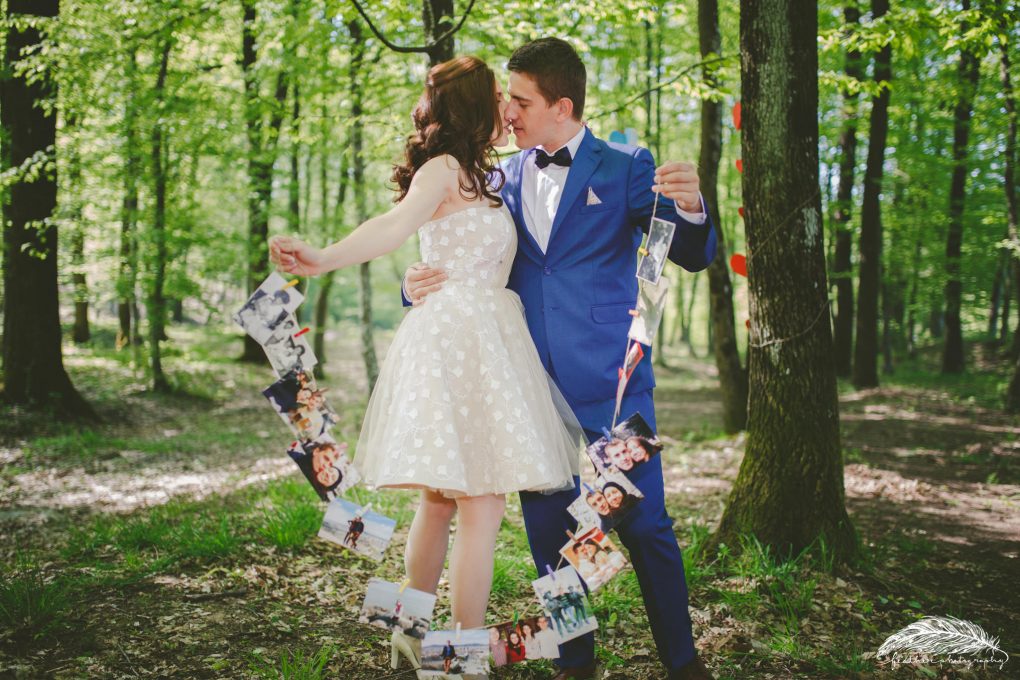 They can be multi-dimensional
We've all seen those wedding dresses that can go that one small unfortunate feather past ornate and into crazy. With a floor length gown and skirt that already dominates the bridal silhouette, a high level of adornment can look extremely out of place. However, with a shorter length gown, a balance can be perfected between the level of decoration and the shape. Because the legs are left bare and on show, that leaves plenty of room on top for embellishment and volume. This will work out in favour of any brides who want to inject that bit of glamour and drama into their wedding dress, without looking overwhelmed by their weight and emphasis. Ines Di Santo has done this perfectly, by adding ruffled skirts and details of lace to their dresses for that perfect glamorous gown that cuts off just before the knee.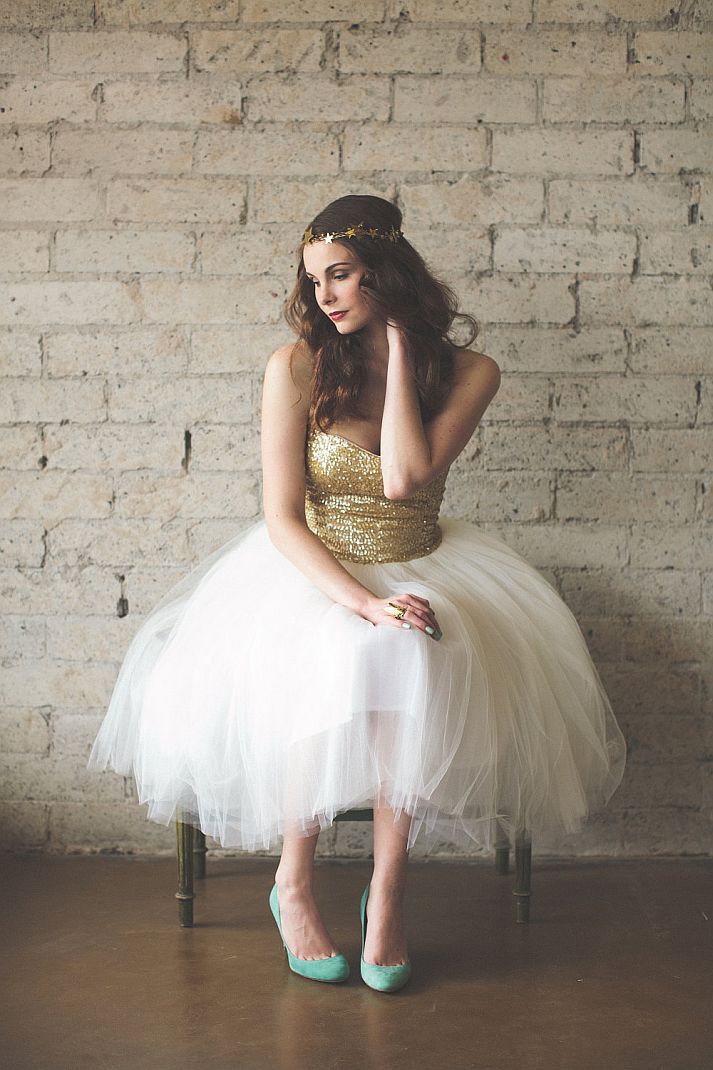 Whether it's a simple jacket ensemble, a flowing 50s inspired swing gown or a fitted dramatic mini, a short wedding dress can give you exactly what you're looking for as a bride. The options are endless when it comes to how they can be worn, and you can create whatever look it is you want to have on your wedding day with this equally versatile and stunning gown. Better yet, after your pick the perfect short gown, you can move onto picking the perfect pair of shoes.
Image credits: Vintage tulle dress: U Me Us Studios | Couple: Alicia Pyne Photography | Boho bride: Stacee | Garden: Photo Like You | Kiss: Ashley Ludaescher | Banner: Feather Photography | Gold sequined dress: Etsy