We know that a lot of the planning and stress can go into organising a wedding, which makes it no surprise that the honeymoon period is one of the most exciting and anticipated events of a wedding. Of course, every single detail and moment of your wedding is going to be special – from finding the perfect dress to that first dance with your husband. But a wedding is also a celebration with friends and family, a celebration that will take a lot of planning and require you to equally divide your attention and resources among these guests for the majority of the night. While the wedding is a great time to drink, dance and be merry with those closest to you, the honeymoon portion is the perfect time to enjoy each other's company as husband and wife on your own.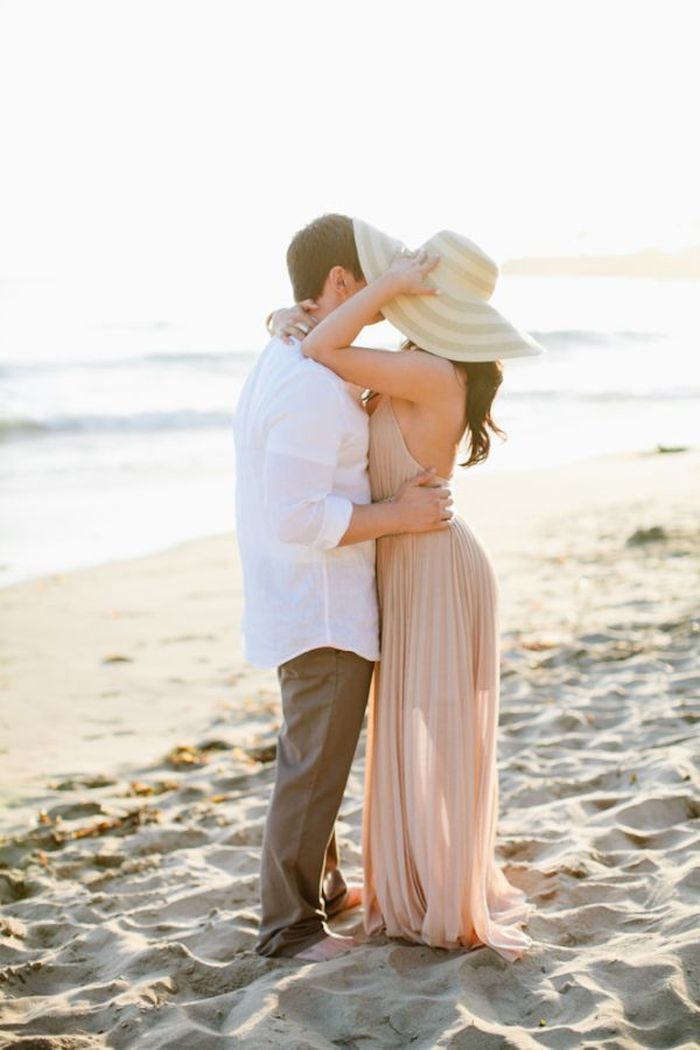 Honeymoon destinations are an endless possibility of choices, from dreamy city lights to long, sandy beaches. The destination itself depends entirely on the individual tastes and preferences of each couple. If you guys want a bit of adventure and exploring, then go for far flung beaches and Caribbean cultures like that of Trinidad and Tobago. Or maybe flying abroad doesn't suit your schedule and you want to stay a little closer to home, there's plenty of charming and inviting Irish countryside and coast to keep you busy. Other hugely popular honeymoon destinations are the dreamy city escapes full of historic spots and landmarks to relive your romance, like that of Paris or Prague.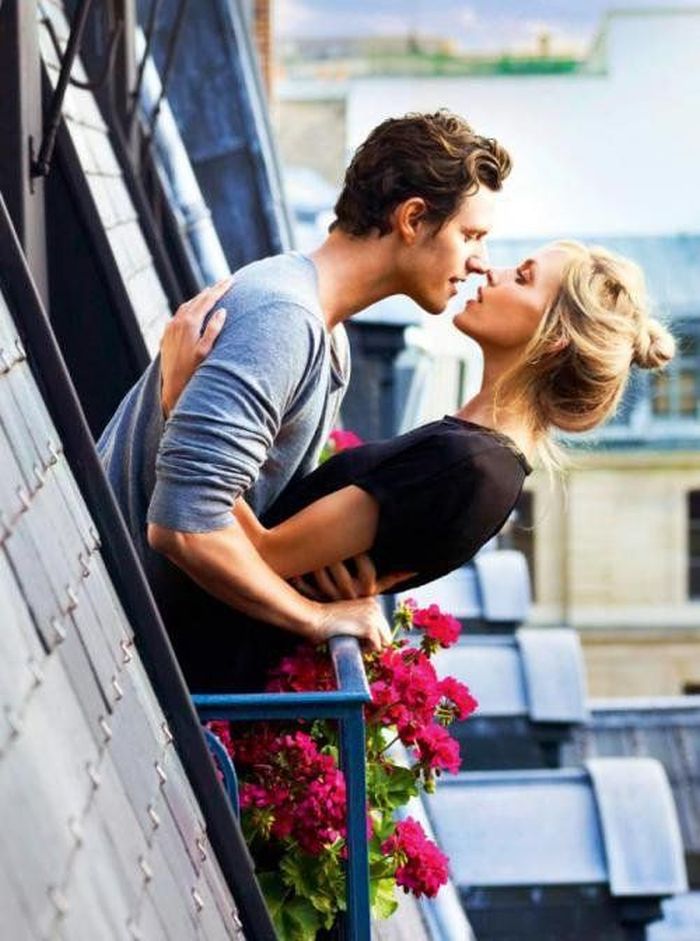 While we don't want to inundate you with more planning and responsibility when the wedding is over and you want to relax, your honeymoon does need a little bit of attention and organisation, as would any other holiday. From sightseeing to dining and dancing, for each and every specific event on this loved up getaway you want to make sure that you both look and feel good. For whichever destination that embodies your heart's desire, you will need specific tailored honeymoon outfits for your stay. After all, we don't want you showing up to a Spanish beach with nothing but cable knit jumpers and 80 denier tights. We want to ensure that if you're chasing the sun, you're doing so fully prepared with flowing fabrics, comfortable sandals and colourful swimsuits. Likewise, you'll need chic and stylish outfits if you plan on taking to the town each evening in the bustling cities. To help you take the burden and stress of outfit planning out of your honeymoon to do list, we've compiled some of the perfect outfit choices to go with the most popular honeymoon destinations around. With these classic, trendy and reliable wardrobe pieces, you will have your honeymoon outfits tailored perfectly to your location – and not to mention make the honeymoon photos look just as fashionable as the wedding.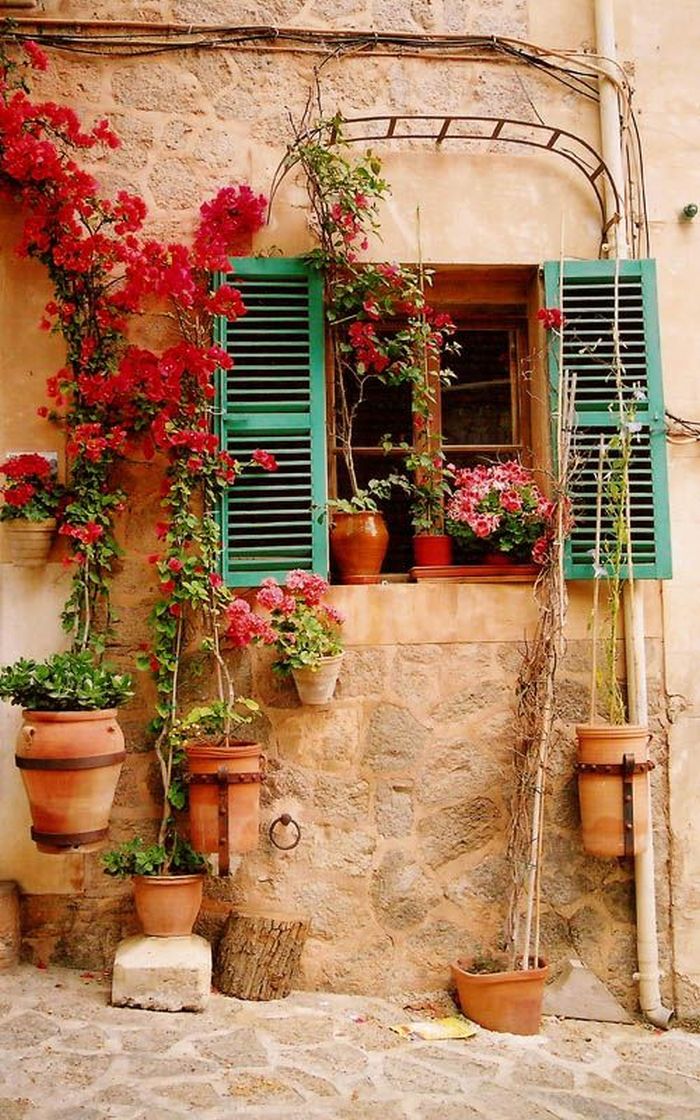 Spain: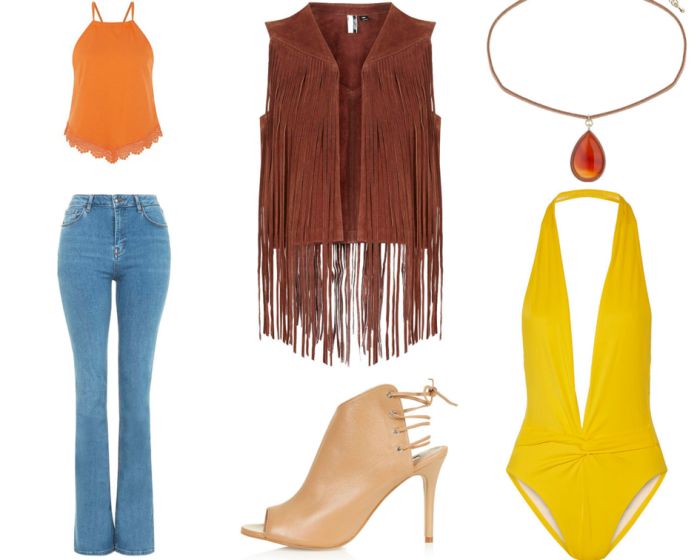 Clothing L-R: Scalloped top: New Look, €12 | Fringe Vest: Topshop, €85 | Choker: Topshop, €10 | Flare jeans: Topshop, €40 | Heels: Topshop, €78 | Swimsuit: Norma Kamali, €307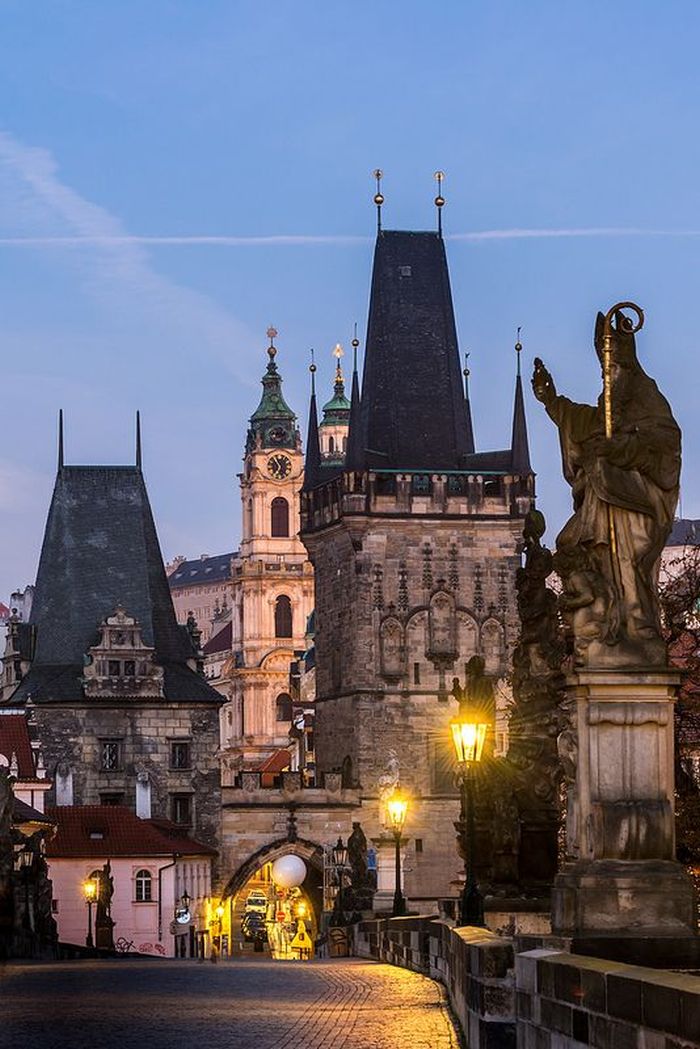 Prague: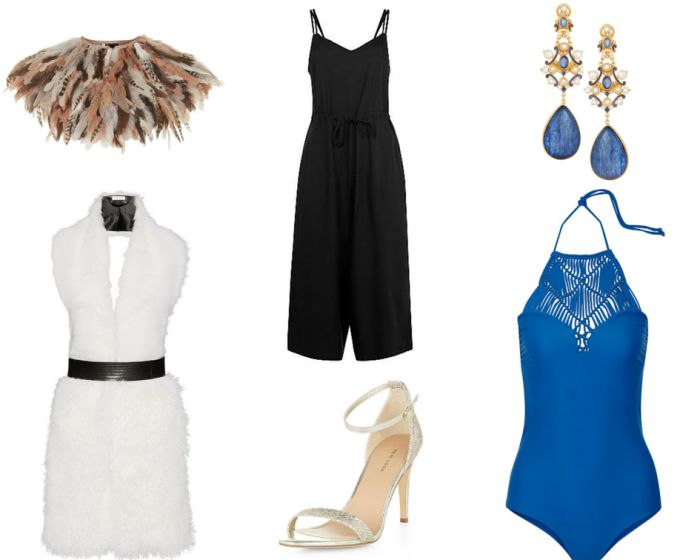 Clothing L-R: Feather cape: House of Fraser, €55 | Culotte playsuit: New Look, €22.90 | Earings: Percossi Papi, €1318 | Fur gilet: Altuzurra, €1940 | Heels: New Look, €25 | Swimsuit: Mikoh, €256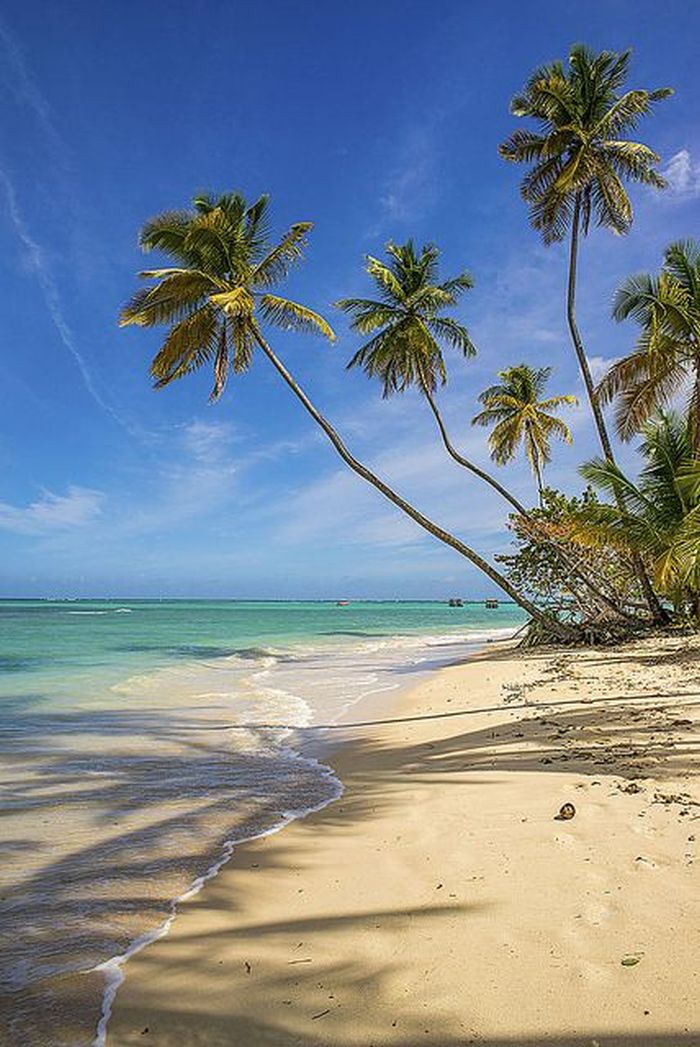 Trinidad and Tobago: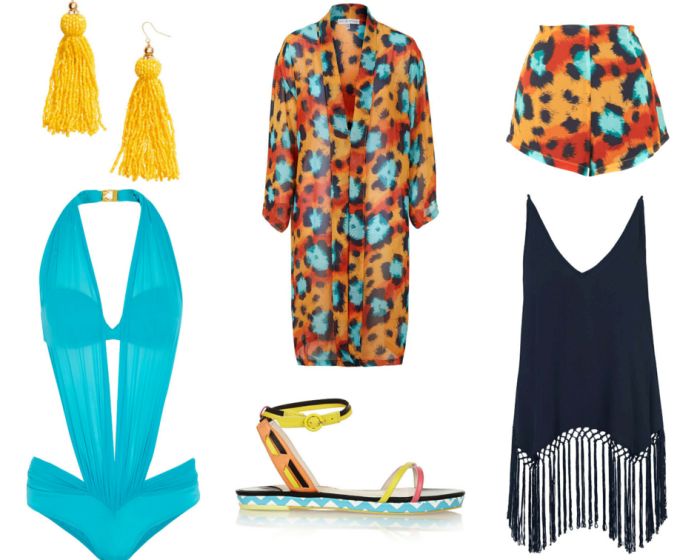 Clothes L-R: Earrings: H&M, €8 | Duster coat: Topshop, €42 | Leopard shorts: Topshop, €29 | Swimsuit: Agent Provocateur, €395 | Sandals: Sophia Webster, €290 | Fringe vest: Topshop, €32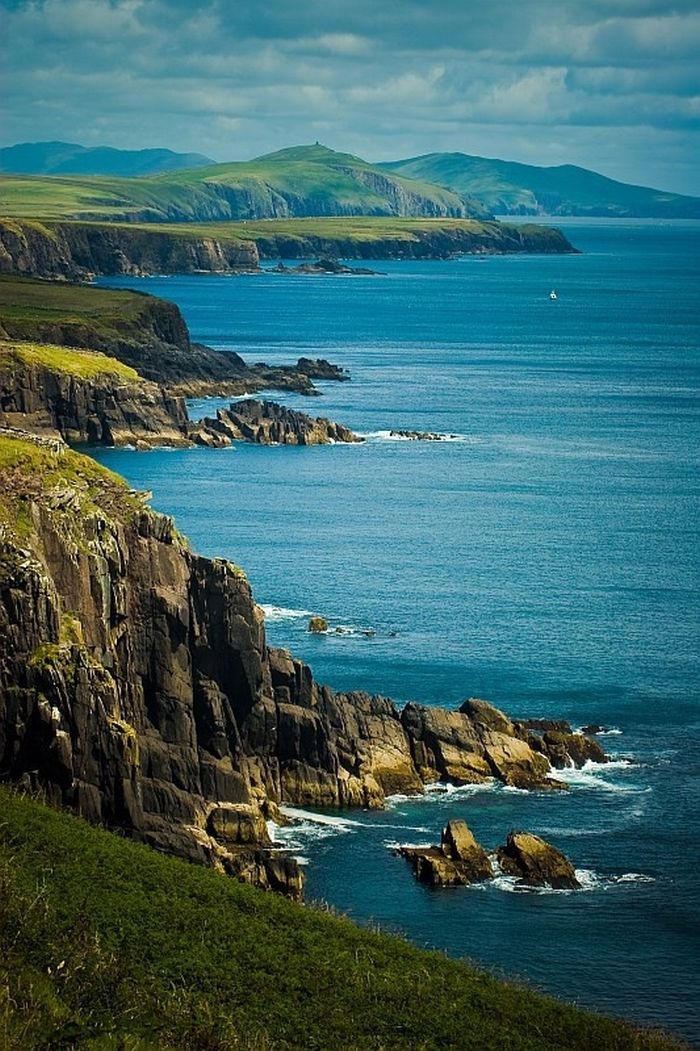 Irish coast: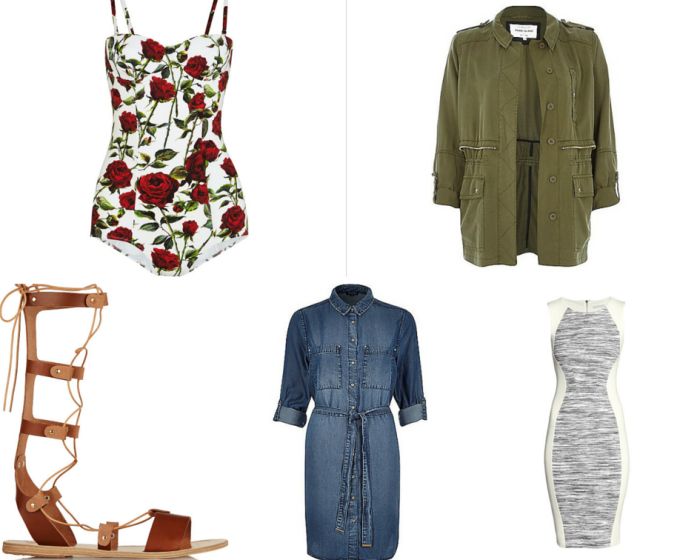 Clothing L-R: Swimsuit: Dolce & Gabbana, €410 | Parka: River Island, €35 | Sandals: Ancient Greek Sandals, €225 | Denim Dress: River Island, €50 | Dress: H&M, €30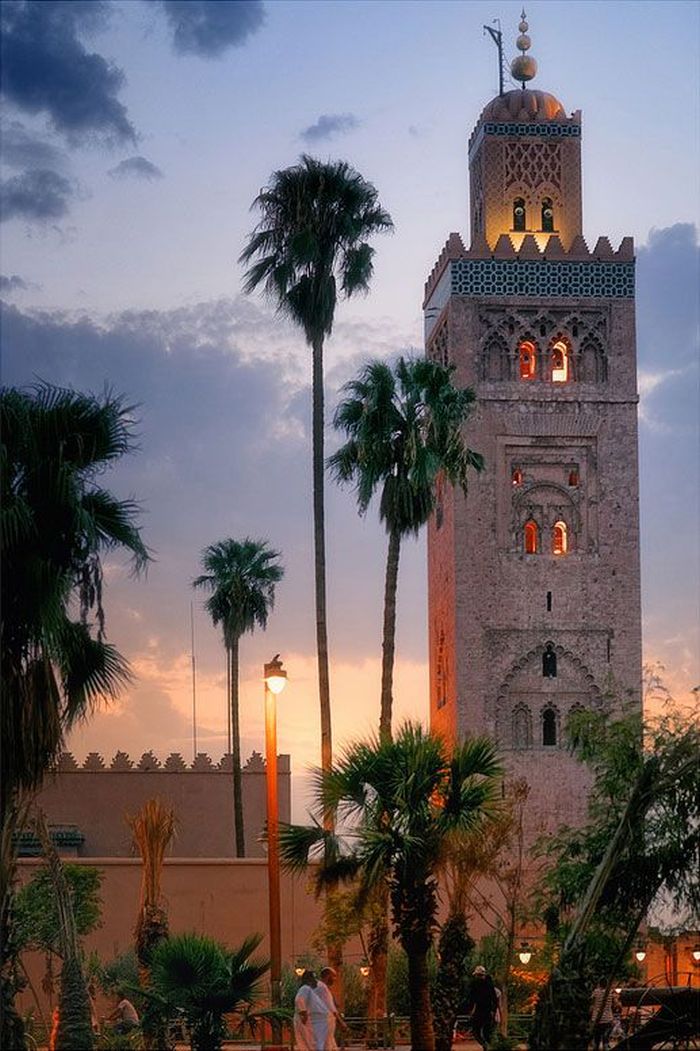 Morocco: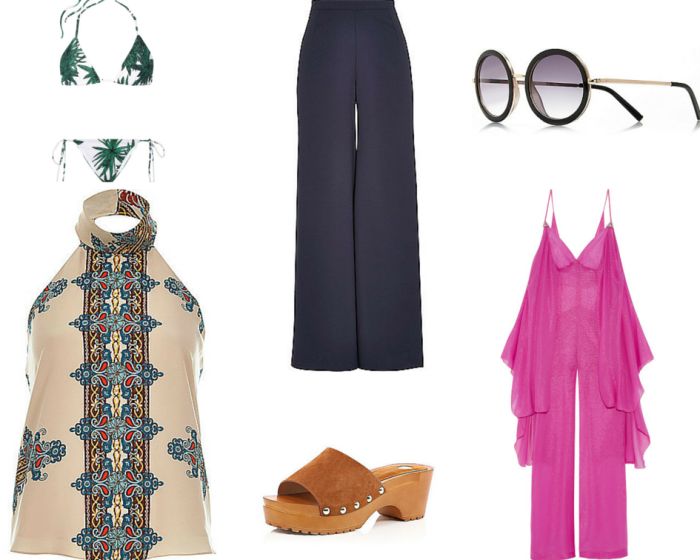 Clothing L-R: Bikini: Mara Hoffman, €215 | Palazzo pants: River Island, €43 | Sunglasses: River Island, €17 | River Island, €43 | Wedge sandal: River Island, €20 | Chiffon jumpsuit: Emilio Pucci. €1090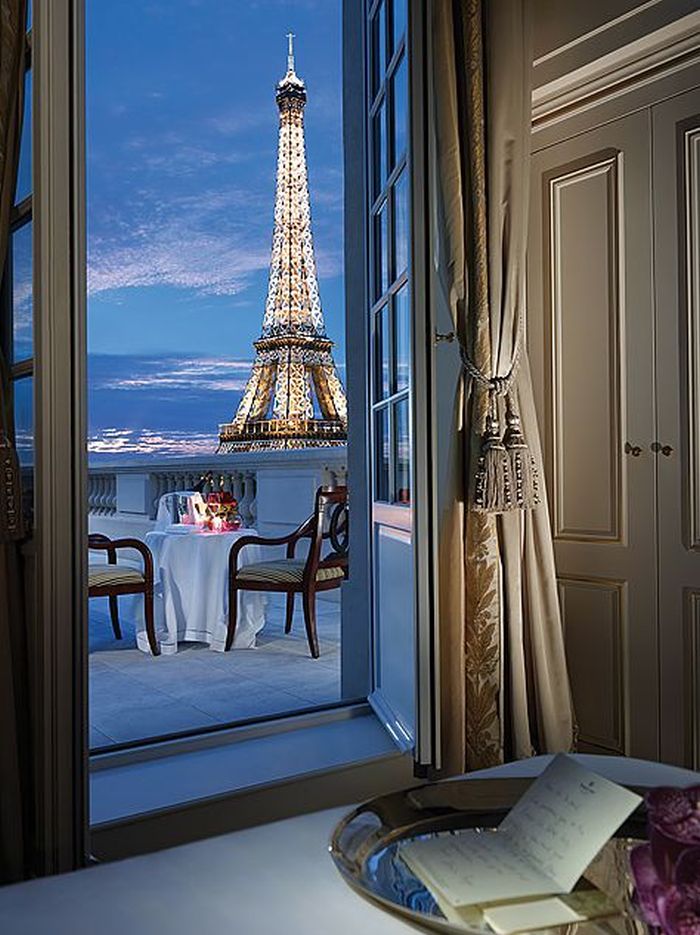 Paris: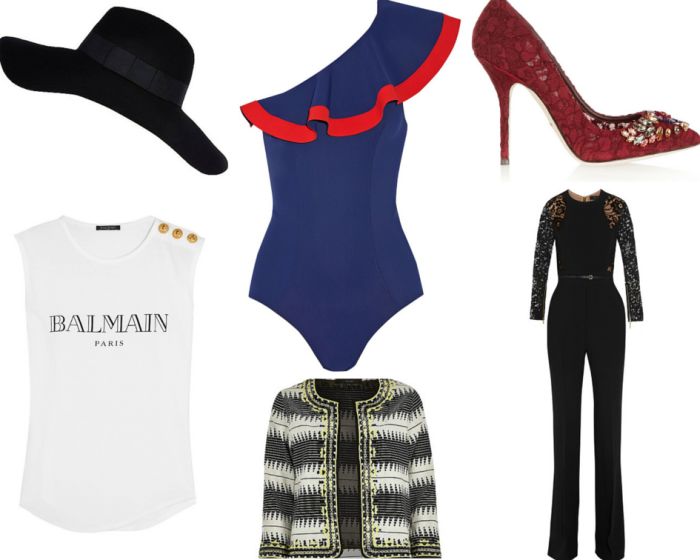 Clothing L-R: Hat: River Island, €18 | Swimsuit:  Lisa Marie Fernandez, €490 | Heels: Dolce & Gabbana, €825 | T-shirt: Balmain, €190 | Jacket: River Island, €30 | Lace jumpsuit: Elie Saab, €3100
- Roisin Curran 
Image Credits: Couple on beach: Inspired By This | Couple on Balcony: Tumblr  | Spain: TrekEarth | Prague: Flickr | Trinidad and Tobago: Flickr | Ireland: Discover Ireland | Morocco: Flickr | Paris: 99 Travel Tips