The red carpet has been rolled out for another season, and who isn't excited! The 2022 Oscars have been and gone. In their stay is a heaping helping of amazing outfits on display, exciting drama and this writer's personal favourite, Jessica Chastain, taking home best actress! With last year's cut-back version of the event due to pandemic-related restrictions being a tad disappointing, this year, all the glitz and glamour we've come to expect from the Academy Awards has returned to the Dolby Theatre. If you've spent as long as I have scrolling through each look from the red carpet and subsequent after-party red carpets, then this list may not come as a surprise, but if you're not quite as award-show obsessed, then enjoy these five style trends hand-picked for you.
1/ Cutouts
Show some skin! This season on the red carpet was all about showing what your mammy gave you and throwing prudishness to the wind with suggestive but tasteful cutouts. A perfect choice for a more modern wedding, this detail is certainly quite daring but makes a splash if done right; I'm personally in love with the look of an otherwise simple dress dappled with tastefully placed holes for a sleek, sexy and super chic outfit!
2/ Old Hollywood
Unsurprisingly old Hollywood glam is still as much of a hit as ever (And that's not a bad thing!), with Grace Kelly-Esque silhouettes, opera gloves and feathers proving to be a real hit for the 2022 event. While it's not a shock to see vintage details, it's certainly more than welcome on one of the biggest nights in Hollywood. Paired with neutral makeup, hair pulled away from the face and fun accent accessories, this look is guaranteed to be a show stopper and a scene-stealer in any wedding you attend!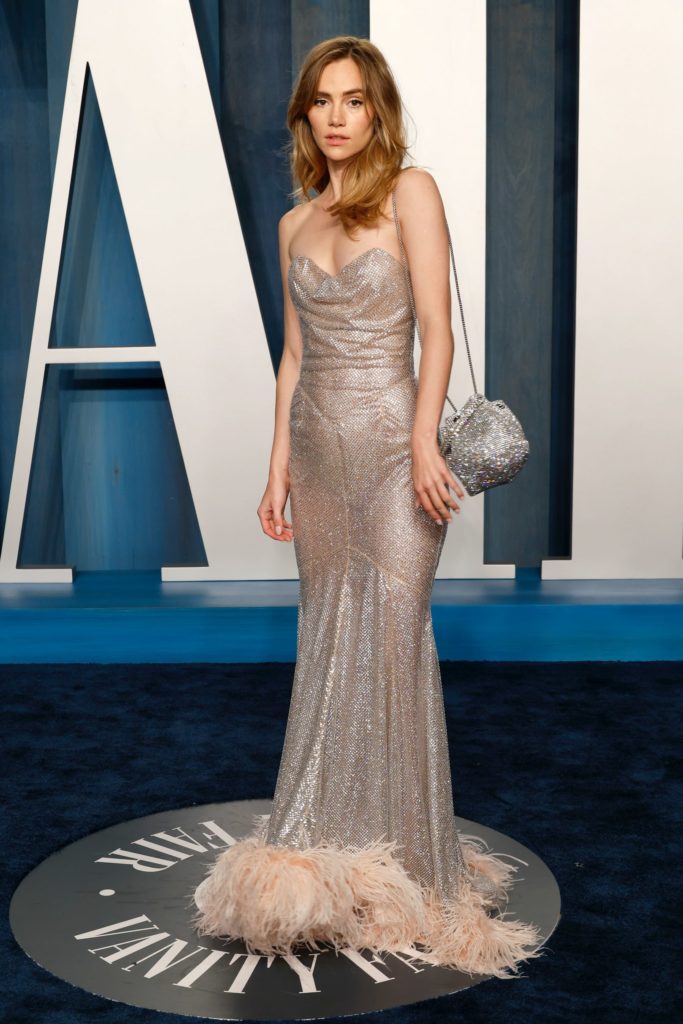 3/ Bold Colours
Nothing makes a statement quite like bright, bold colours. This season's extravagance is in full force, and designers aren't shying away from playful, almost shockingly bright colours; it's no wonder why, last year, with covid regulations, we didn't enjoy the night as we have for so many years. Nevertheless, fashion houses like Gucci and Carolina Herrera are making up for lost time with punches of attention-grabbing colour, and I'm not upset by that! Bold brights will never disappoint, whether it's all over or just in pops.
4/ Ruffles
One of the significant trends hitting the red carpet for the Academy Awards was ruffles galore! Designers like Louis Vuitton and Gucci favour movement accents to give an otherwise minimal gown dimension and body that doesn't overwhelm the wearer. Big or small, adding bunches, pleats, or gathers is a surefire way to elevate an outfit and take it from off the rack to on the red carpet! A perfect detail for garden party weddings, search for gowns that use fabric to draw attention to your best assets.
5/ Blush
Pink is in season for 2022; with Valentino making waves with a completely fuchsia collection at Paris fashion week, it's no wonder we're seeing a more subdued shade at the Oscars. In general, blush is an incredibly flattering colour; regardless of how dark or light your skin and hair are, this warm, natural pink tone looks good on everyone! For 2022 weddings, I would personally avoid very pale blush (You don't want to run the risk of matching the bride!), but a warmer, brighter shade will never go wrong; Chuck on a bit of tan and beach wave your hair for a sultry, earthy and incredibly glamorous look!
- Gráinne