This time were decided to do something a little different – that is, focus on the groom and his attire for the big day. Of course while we love feasting our eyes on the new and upcoming trends designers have to offer our brides, we've also spotted a few new distinctive looks cropping up for men. So, this time we have a few on-trend pieces that are just for the groom.
Traditional
For those traditionalists among you, rest assured that modest yet stylish attire will still be more than acceptable this year. That is, the ever favourite traditional style of suits, tuxedos and waistcoats. Matt black ensembles are still hugely popular to fit a more classical affair. Dolce & Gabbana have brought two styles of suits to cater for these tastes in their 2015 collection.This first is a rather slim fitting stylish three piece suit with a charcoal grey colour.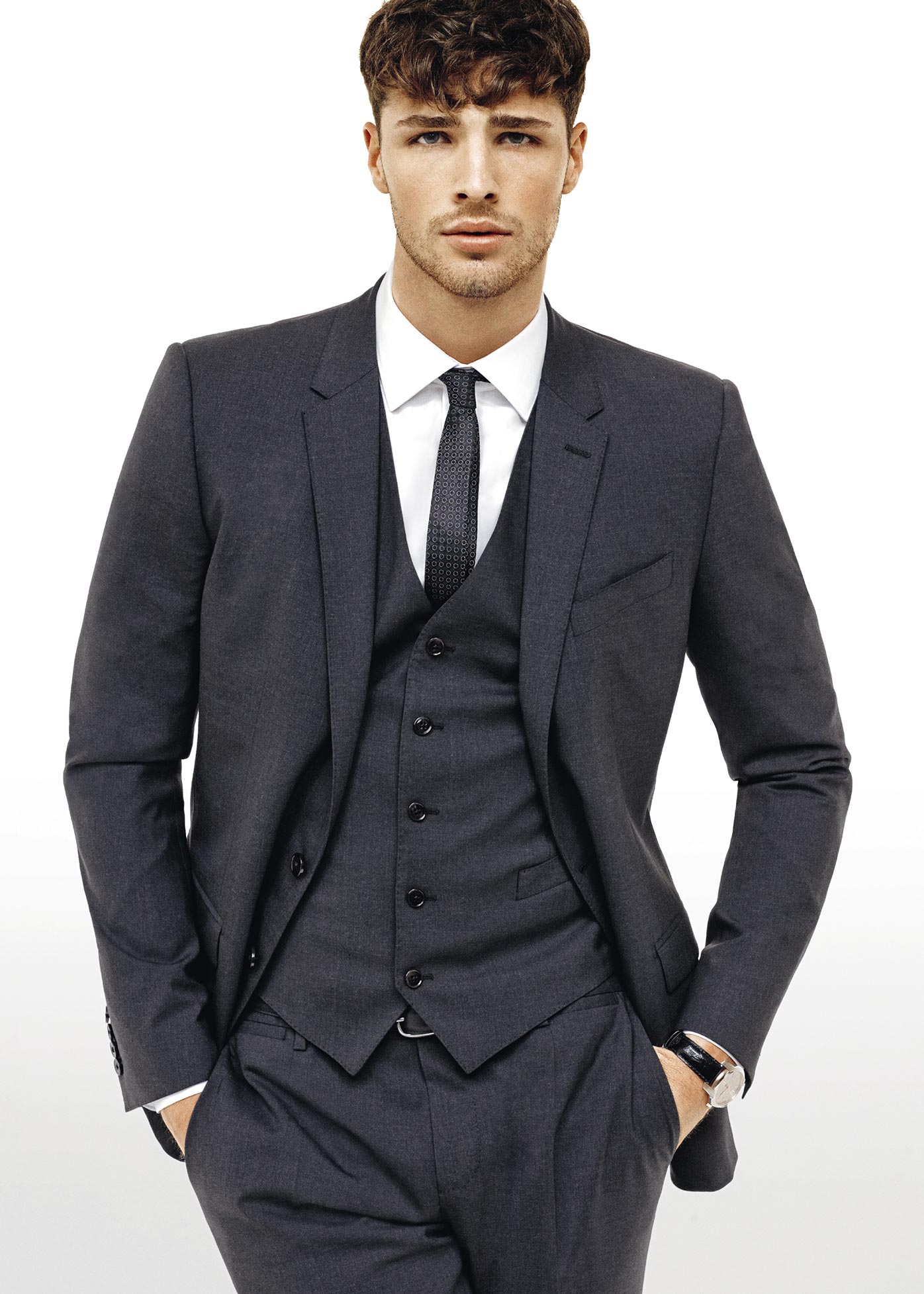 The second is a more daring black double breasted tuxedo and bow tie. With a very definite suave and evening feel, these pieces are for the man who wants to feel like an Italian model standing at the top of the aisle.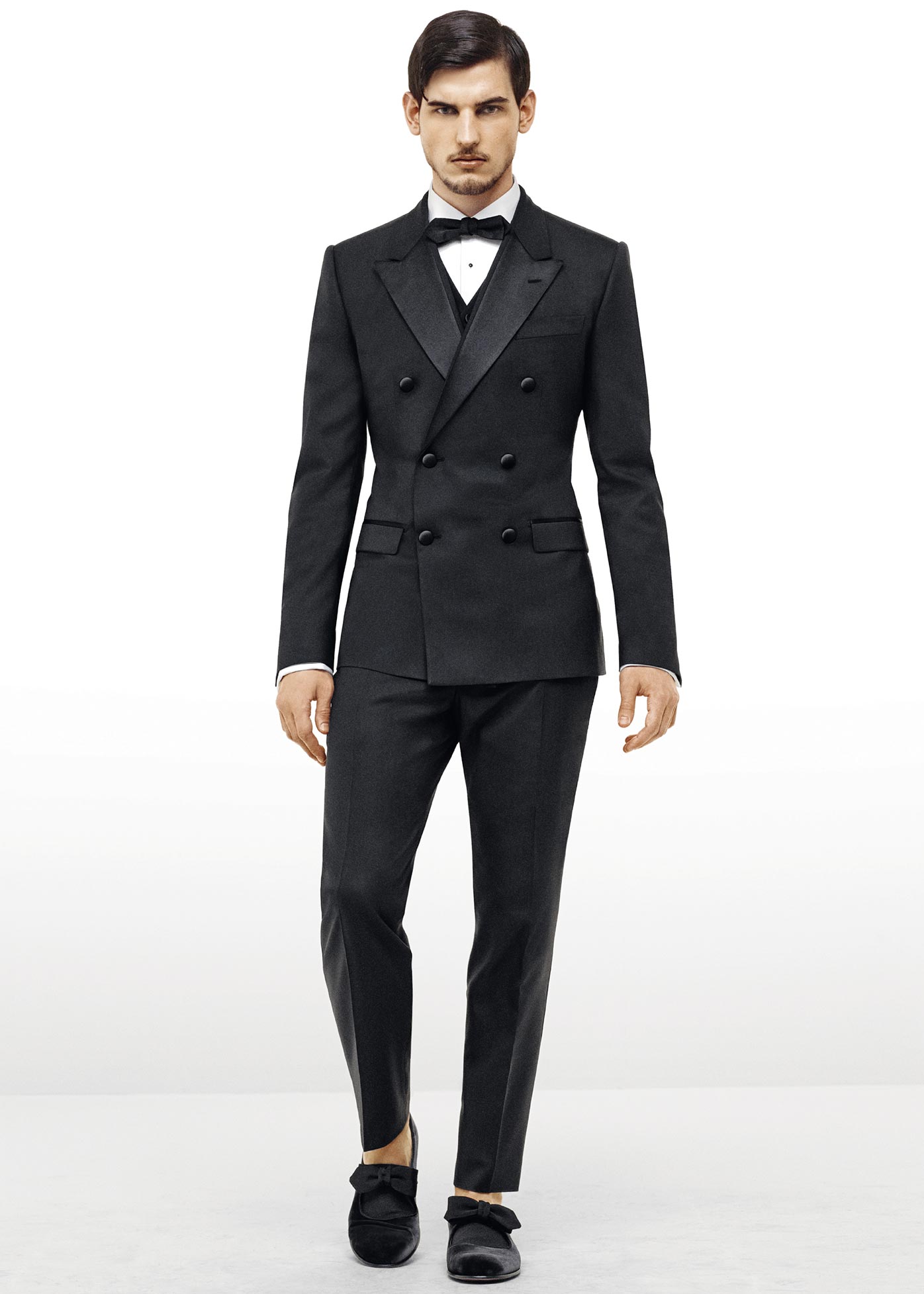 Metallic
However, this year, designers have taken the traditional suit style a step further to incorporate a much more contemporary feel. Bold, metallic pieces featured heavily on the runaway this year in all different shades in Dolce & Gabbana.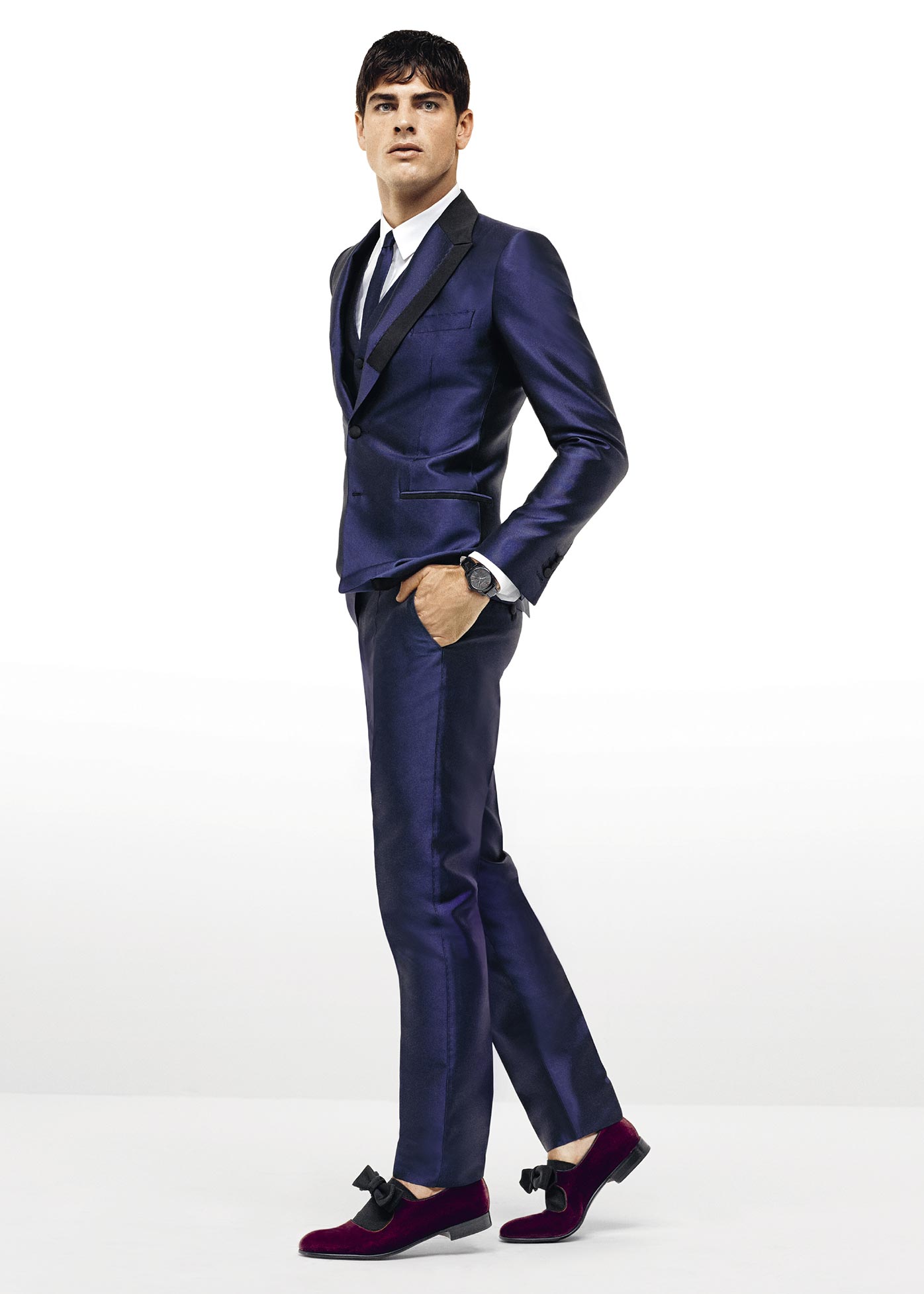 Ranging from deep blues and purples and even to a dark and striking burgundy, these suits are a definite showstopper. It certainly put an edge on the typical suit appearance for a more glamourous and modern touch. For a much more consciously sleek and stylish appearance, these suits are for the man who wants to stand proud and stylish next to his fashion conscious bride.
Pastels
Another hugely popular trend this year in the spring collection are the bright pops of colour and pastel tones that we've seen everywhere. Both Versace and Viktor & Rolf featured these pretty hues on their runways. Versace showed two box style blue sky suits and a pale pink outfit, which brought together a sophisticated look with a romantic atmosphere.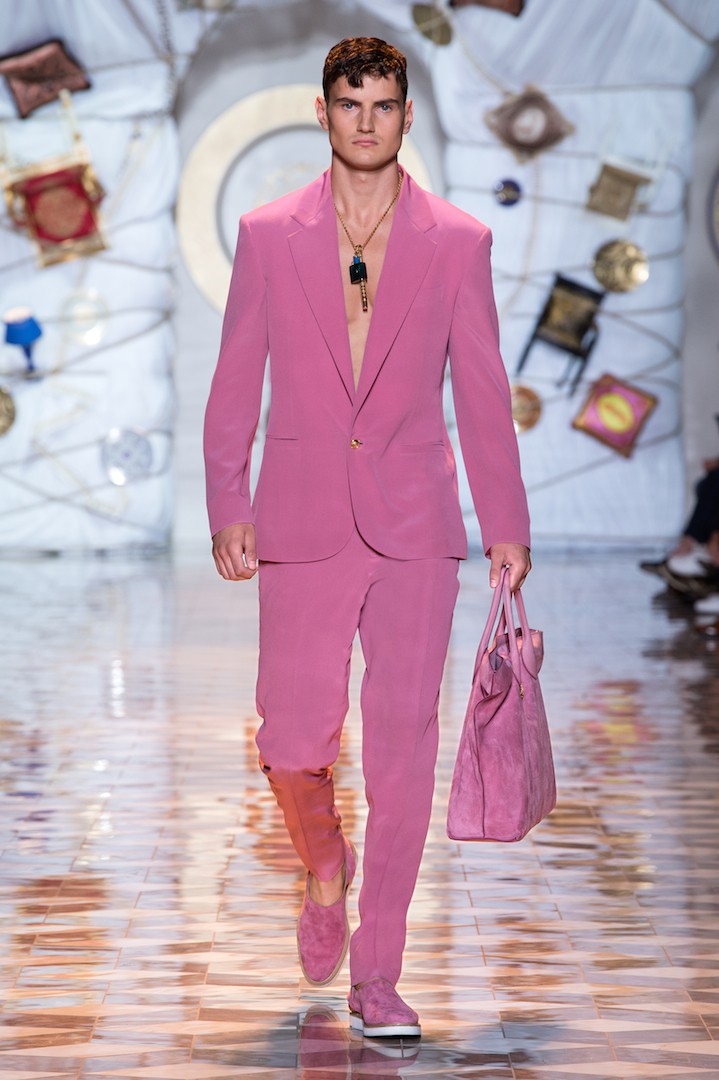 Viktor & Rolf also feature similar tones, with ongoing different shades of the same colour for each part of the suit. With this layering of different tones of pastels, it aims to create a more refined theme of playfulness. Perfect for an outdoor spring or summer wedding, these suits set a light, airy and relaxed tone to the wedding and groom.
Nautical
A slightly unexpected trend to emerge in male fashion this year was the nautical theme. Dashing white suits, striped black blazers, fitted navy trousers and slip on boat shoes have all come back into fashion this spring. This look is giving you a chance to break the rules and showcase the groom wearing white alongside the bride. Featured hugely in the Gucci collection, the men sported striped trousers, embellished gold buttons and crest embroidered blazers.
Even if stripes seem too bold a move for your day, then you can simply tone it down by wearing a crested sports jacket, or stylish loafers for a causal undertone. These styles would suit a lakeside summer wedding perfectly in an elegant but casual affair.
Boho
Of course we can't forget the boho groom that will need to match the always beautiful bohemian bride. Boho looks for men always encompass a very retro authentic feel to the outfit. Still ceremonial to the point that a suit is being worn, but with just the right amount of unique accents to make the outfit personal and whimsical. Plenty of designers have embraced this carefree trend in their suits this season. From printed neck ties and scarves to checked suits and more, this year it's all about the man who wants to put his own touch on his suit.
Starting with fully patterned suits, designers such as Dolce & Gabbana and Vivienne Westwood have brought out many different decorative suits that will give grooms a lot to choose from. Dolce & Gabbana have featured a checked gingham design on their suits, which is perfect for the groom who wants a change from the normal one colour suit but doesn't want to go too bold either. Also in this collection they showcased both pinstripe and the quirkier polka dot, again ideal for a change from the normal monotone suit but still subtle enough to remain comfortable. They have also featured a bolder fox print that is very retro, ideal for the eccentrics among the groomsmen.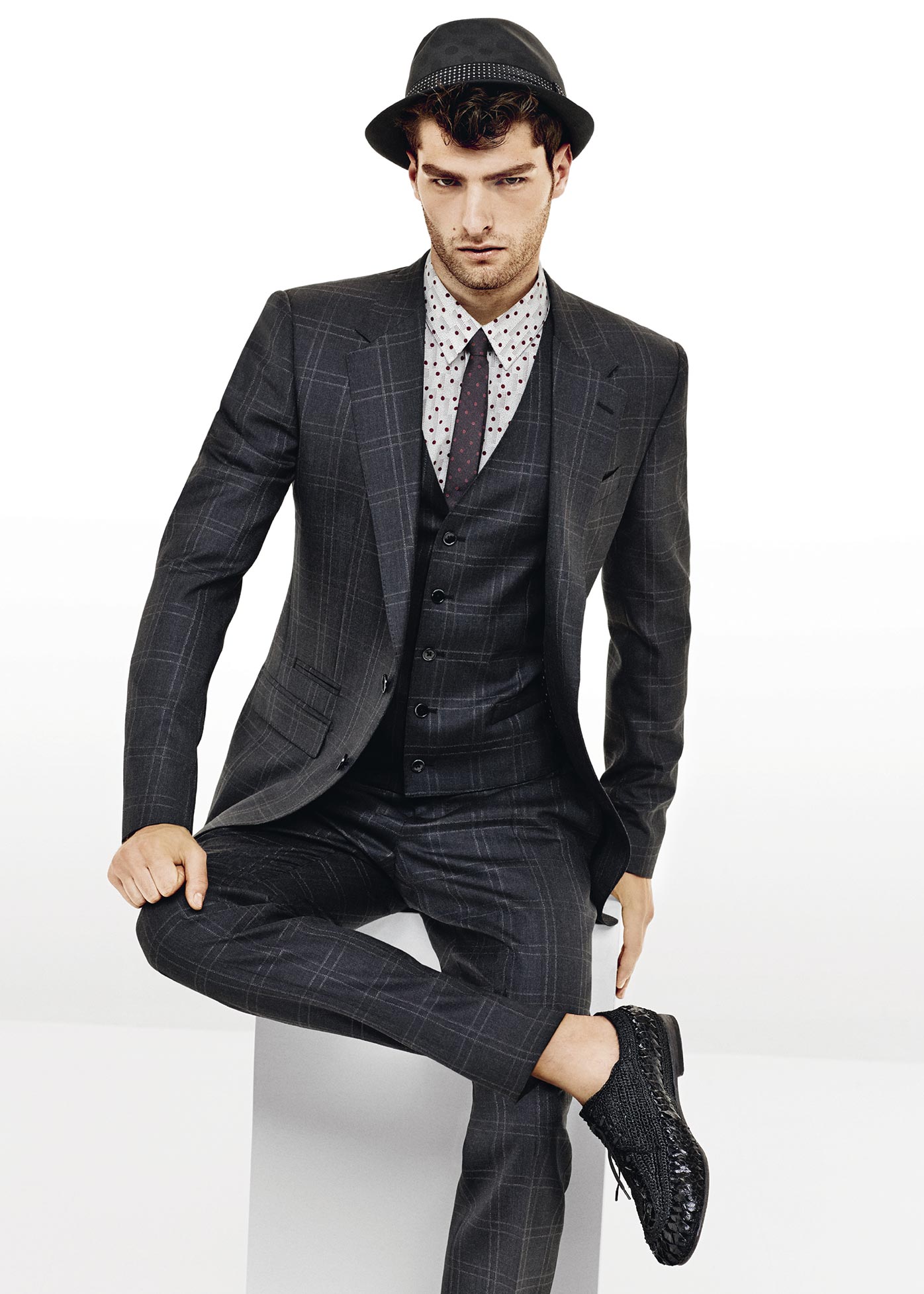 Vivienne Westwood, known for never staying inside her comfort zone, has also produced a striking line of patterned suits. From bright marmalade tones in checked patterns to racer checkerboard prints with bright blue stripes, these unconventional suits are most definitely for the groom who is looking to impress his guests.
If patterned suits aren't your thing but you would like to add a personal touch to your appearance on the day or even colour coordinate with the décor, accessories are the next best thing. Ermanno Scervino has showcased both bow ties that pop with colour, which would be perfect for that subtle yet fashionable addition to your suit. Valentino has also produced printed scarves and ties in their 2015 collection focusing on the paisley print for a sophisticated chic touch.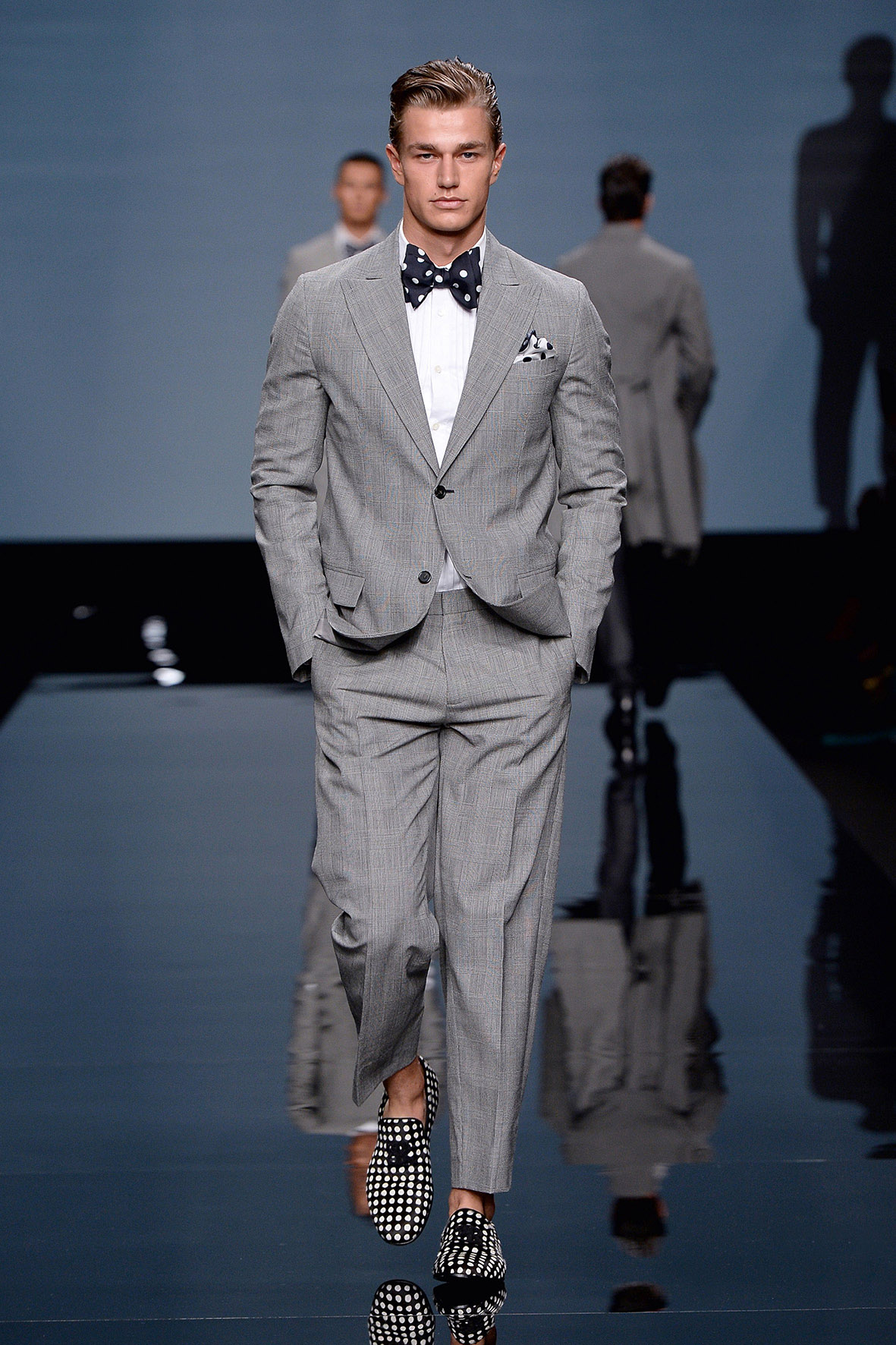 So there you have it, an abundance of new designs and styles to give the groomsmen their own fashion flair on the big day. Whatever your style preference, for spring 2015 it's no small secret that this year the groom will be ready to share the spotlight.
- Roisin Curran
Image credits: Traditional & Metallic: Dolce & Gabbana | Pastels: Versace and Viktor & Rolf | Nautical: Gucci | Boho: Dolce & Gabbana,  Vivienne Westwood and Ermanno Scervino