Coming into the winter months, there's a good chance brides getting married at this time of year will need something to keep them warm. Even at other times of the year, a little cover up could be useful in Ireland. After all this is one of the few places in the world where seeing a hailstorm in June wouldn't bat an eyelid. For that reason alone, neither we nor your good old grandmother want our brides unprepared for any potential weather mishaps on the big day, especially in the depths of winter. We're looking at the most stylish boleros to cover you up on your wedding day and complement your stunning gown. After this roundup of the most fashionable accessories around, you'll stop that chill getting into your bones in true elegance.
The bolero is a style accessory that many women tend to stay away from on their big day. Along with seeming a little dated at times, boleros can also overcrowd the dress depending on the level of adornment or even the colouring. It can, at times, be a style landmine and we wouldn't blame any brides for wanting to completely sidestep this piece in order to play it safe. However, boleros no longer mean a sheath of gathered silk fabric that pinch underneath your arms and make you look top-heavy. With a few recent trends and styling tips that we have gathered for you, you'll be able to wear a bridal shrug or bolero with no doubts or worries in utter style.
Starting off with the most delicate, lace bridal bolero are always a beautiful choice and can completely romanticise your gown. It's made of delicate lace and comes up around the back of the neck like a halter-style neckline. This shrug would complement almost any style of gown, reigning it into a structured, polished finish. Despite what you may initially think, this cut of bolero would suit an organza or ball gown dress perfectly. The structured frame would bring emphasis on the shoulders while the organza skirt would finish the gown with a light and elegant air.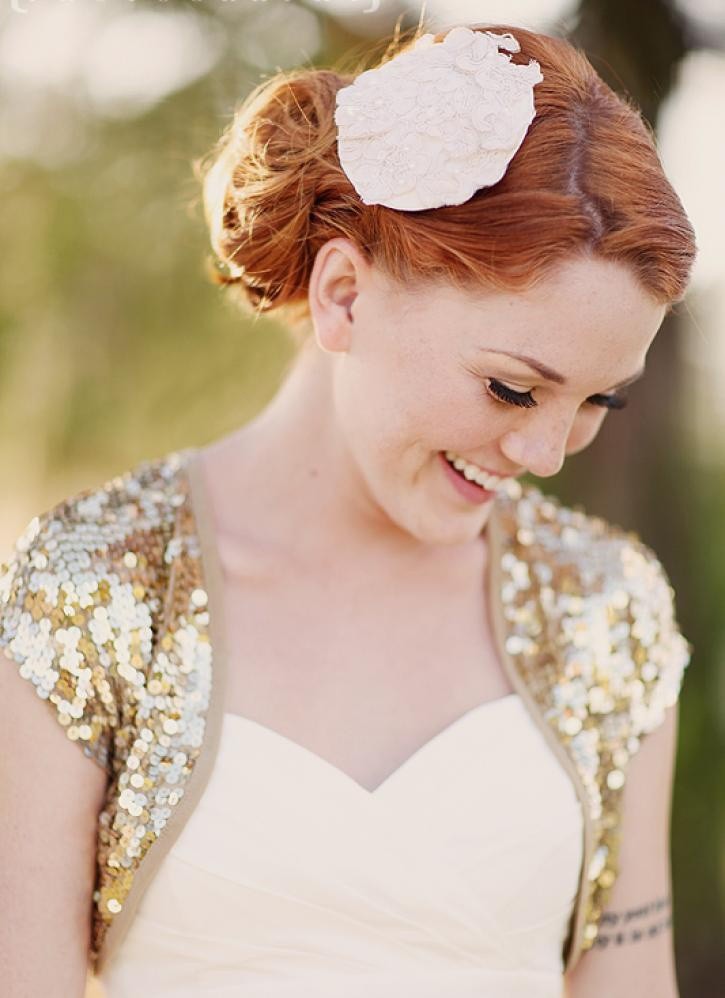 Add a different touch of texture to your gown with this rosette-embellished shrug from Valentino. Unlike the Givenchy bolero, this one features a softer gathering of fabric and is less controlled. The ruffles and pattern of the roses make for a very feminine yet elaborate appearance. Similarly, another type of design like the Valentino is the sequined bolero. Along with a different fabric, it also brings further adornment to the gown, as well as that bit of extra sparkle. However, in order to avoid that ever dreaded overcrowding of the dress, we would strongly suggest wearing an embroidered or rosette-embellished bolero with a simpler, less detailed gown so that the two can complement each other. These types of boleros with a more dense material sit best on lighter gowns that have a slim fitted or figure hugging skirt, so as not to look smothered or weighed down.
Thanks to this new and bold staple, brides are no longer afraid to mix up fabrics and materials on their gowns. The old preconceived notions of boleros being a trend that is stuck firmly in past are now gone, with new fabrics and designs taking centre stage as part of the wedding gown.
- Roisin Curran
Image credits: Fur bolero: Punam Bean Photo | Lace bolero: Pinterest | Gold sequined bolero: Pinterest | Chiffon bolero: Sibo Designs