The perfect dress…the prettiest shoes…the ideal jewellery to set off the ring and the dress: when it comes to creating the perfect bridal look, most brides-to-be have a clear picture in mind of what the final outfit will contain. But what about what goes under the outfit? Bridal lingerie isn't something your guests are likely to see, or an element that many brides take a lot of time to think about, but it is undoubtedly one of the most important things to get right on the day. In addition to ensuring you create the right silhouette and have no visible straps or lines, the right lingerie will make certain that you are comfortable all day – and feeling sexy and beautiful on your wedding night. Follow these tips to get the perfect underwear for your wedding day.
The Right Support
You might be a t-shirt bra kind of gal day-to-day or someone who thinks of shapewear as an unnecessary accessory for a normal life, but on your wedding day, you'll appreciate not having to worry about how well supported you are.
With that in mind, think about what you need to really support and enhance your final bridal look. Have you decided to go for a strapless dress or one that exposes your back and shoulders because of sheer material? Then consider sincerely what bra type will work best for you. If you are a woman with a big chest, stick-on cups are unlikely to keep your comfortable and held in all day. Instead, you might consider a quality strapless bra, a bra with straps that go across the back instead of over the shoulders, or maybe even a bustier. (Whatever option you go for, you might want to consider toupee tape to keep your bra line snug to your chest.)
Alternatively, consider having bra cups sewn into your dress and supported by double-sided tape. This option is better for women with small or medium breasts. If you have larger breasts, speak to a lingerie specialist about pretty but suitable options. Try on a few in the shop until you get the fit you like.
Tip: If going for a traditional bra or bustier (rather than stick-on cups), ask if you can return any that don't suit you with a receipt. If you can, buy a few options and try them all on under the dress. Return the ones that don't work.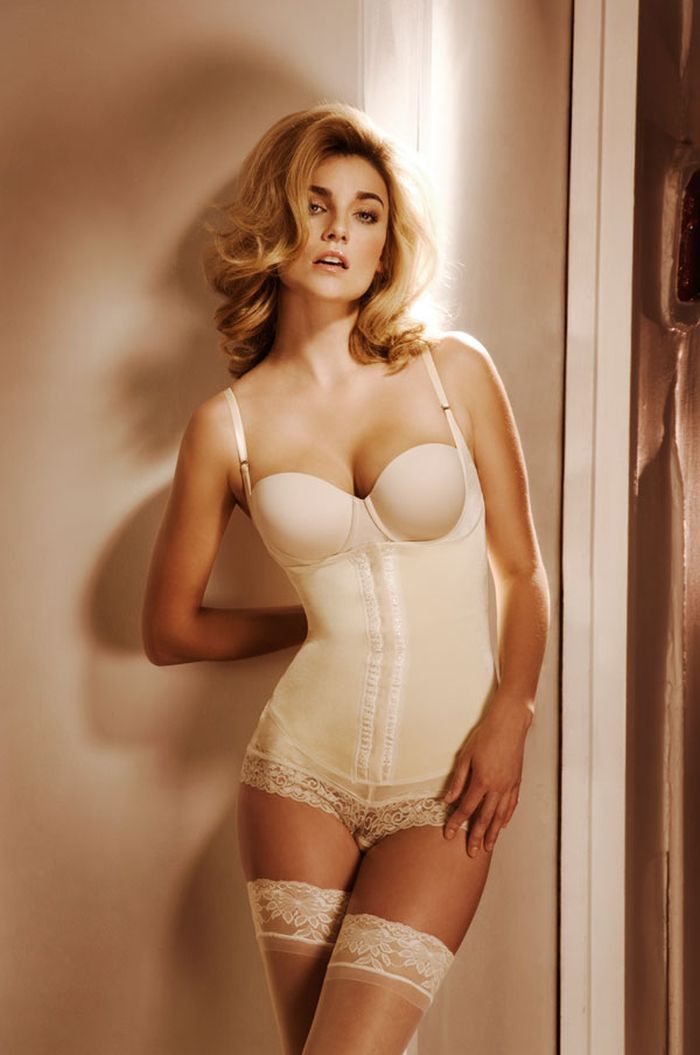 The Right Lines
Some fabrics will glide right over any lumps or bumps; others, particularly lights silks or satins, or anything with stretch, can cling. Either way, you don't want to feel self conscious on your wedding day that your dress is not fitting you in the most flattering way.
If you have a dress that doesn't hug all your curves, a simple slip might be all you need to feel comfortable and have your dress hang correctly on the day. Otherwise, the right shapewear can be helpful. Shapewear has come a long way in recent years; there are options to suit every type of body shape and size, much of it far more comfortable than it's ever been.
If you're concerned about your stomach, consider Spanx or other control knickers to help flatten your tummy; there are also control slips that sit under your bra to shape your entire torso. Concerned about your thighs or bum? Consider shorts-style control knickers, which will help to give better shape and definition to those areas. Whatever shapewear you might decide is right for you, we recommend you try to choose a seamless option. That will help to ensure that there are no visible lines, panty or otherwise, that will show under the dress.
Tip: If you opt for shapewear, particularly if you are not someone who wears it often, spend some time wearing it around the house, as far ahead of the wedding day as possible. You don't want to wait until the wedding day to discover that the shapewear is uncomfortable on you; that will only to serve to distract you from what's really important on the day. If you do find that the shapewear is uncomfortable ahead of the day, return it! Don't decide that you will just power through the discomfort on the day. There are a lot of shapewear options out there, so find one that's comfortable.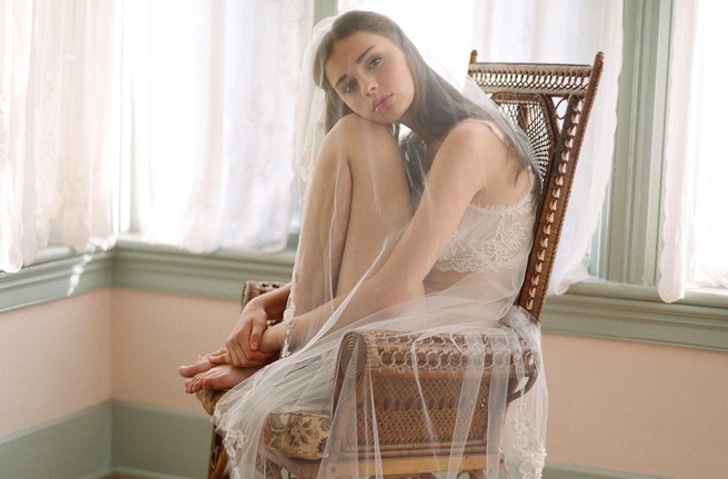 The Right Feeling
Bridal lingerie may be the most memorable underwear you'll ever wear in your entire marriage; it should make you feel attractive when you put it on. With that in mind, keep the final look in mind when you are choosing your bridal underwear. If you're planning on wearing the underwear day through night, think about whether you will be excited to show your new spouse what's underneath. If not, maybe keep the functional underwear for the day and change into some showstopping lingerie when you get back to the honeymoon suite.
That opens up a range of options to suit any bride. We love the AW18 bridal collection from Studio Pia – particularly as all pieces are ethically crafted in the UK and feature cruelty-free, organic, peace silk inside and out, or French embroidered, fine, illusion tulle, all finished with signature adjustable silk-wrapped strapping and premium 24k gold plated hardware.
The AW18 collection features two ranges: Bella, meaning beauty, features silk-lined pieces that accentuate the curves. Soraya, meaning precious jewel, has dramatic gilded embroidery for a decadent, eye-catching look. Both ranges feature longline bras, non-wired soft cups, multiway suspenders and a variety of bottoms options – all designed to suit a range of shapes and body types. For our money, this is about as memorable and flattering as wedding lingerie gets. Check out the range on their website.
Tip: When picking your lingerie out, consider the fabrics and details on the lingerie. Satins or soft materials will sit well under most dresses; lace material may not. Bows or jewels can look pretty, but will they show or catch on the material? Always, always try them on under your dress to find out for sure.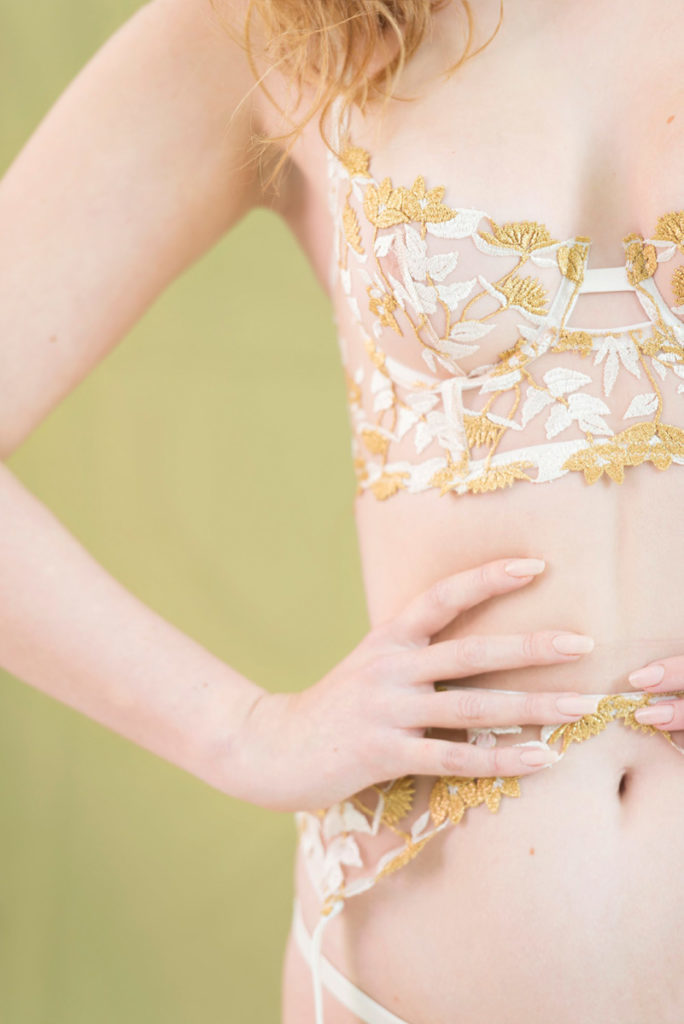 -- Erica Mills