There's a lot more to being a bridesmaid than just the matching dresses (or mismatching if that's your thing). Yes there's the planning, helping you find the perfect wedding dress, and then helping you get in and out of said dress multiple times throughout your wedding day. Like most brides, you will no doubt have a lot of love, respect and appreciation for the girls who stand by you and help celebrate this day. For this reason alone, there are many great ways to add an even further personalised touch to your bridal party in the form of what we almost love more than the dress – the accessories. From jewellery to hosiery, with these signature tokens and outfit accompaniments that we have carefully selected, your bridesmaids will have heartfelt mementos to last for years of fond reminiscing.
Jewellery
The go-to accessory when it comes to personalisation for any ceremony or event, there is a reason why jewellery will always remain the definitive personal gift. Some timeless classic style features still remain to be the friendship bracelets and the infinity charms of our younger days. These fond childhood tokens have been transferred over from the days of soft, scrappy hand-woven wool to now include glittering, grown-up jewels. These pieces are stylish and graceful but still manage to retain just the right amount of nostalgia and whimsy to create the perfect balance of friendship and style. A charm that your bridesmaids will be proud to have on the big day and many days thereafter.
Accessories L-R: Jennifer Meyer, 18-karat gold diamond letter necklace, €1663.06 | Monica Vinader, Esencia rose gold-plated topaz bracelet, €265 | Ippolita, lollipop 18-karat gold amethyst earrings €1629.75
Belts
An all-time standard styling tool, we admit this may not be the first accessory to jump at when you consider styling the bridal party. But, with the diversity in accessories that we have at our fingertips today, a belt is the most surprising way to personalise your bridesmaids' outfits. Whether it is a token charm belt to represent a fond memory you shared together or a classic statement piece, with the right amount of searching you will be sure to find a uniquely designed belt perfect for that little personal touch. A personal favourite here at S&P are this seasons burberry dragonfly belts. The entire Burberry Prorsum collection, entitled 'The Birds and The Bees' was, you guessed it, inspired entirely by nature. These belts are both classically chic and similarly modern, perfect for a stylish nod to current catwalk trends while keeping your bridesmaids engulfed in elegant fabrics and colours. Make them individual or make them a group effort – either way, you'll be surprised at the amount of fun, poise and nostalgia a belt can inspire.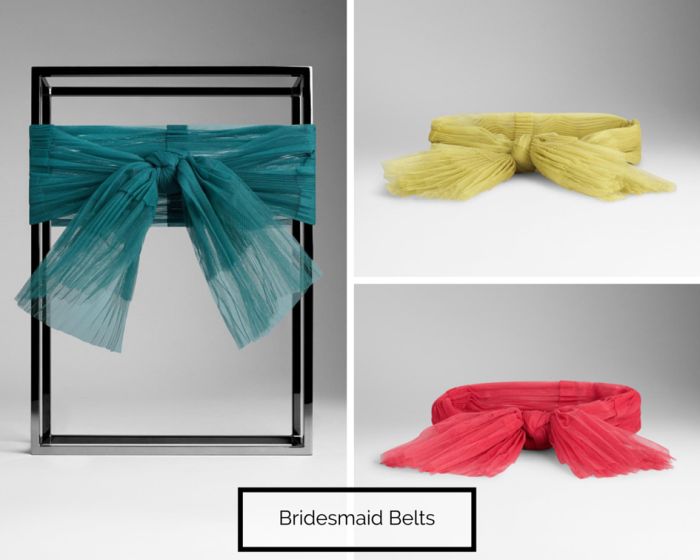 Accessories L-R: Burberry,  dragonfly waistbelt, €425
Wedding socks
An absolute darling favour to give, and usually unheard of, these little patterned and personalised cosies will make any bridesmaid's heart melt. A perfect photo opportunity on the morning of, or better yet a very practical replacement to have on hand for the night of - when high heels just can't cut it out on the dance floor anymore. These colourful, fun accessories are a personal, quirky and laugh out loud fashion gift to give.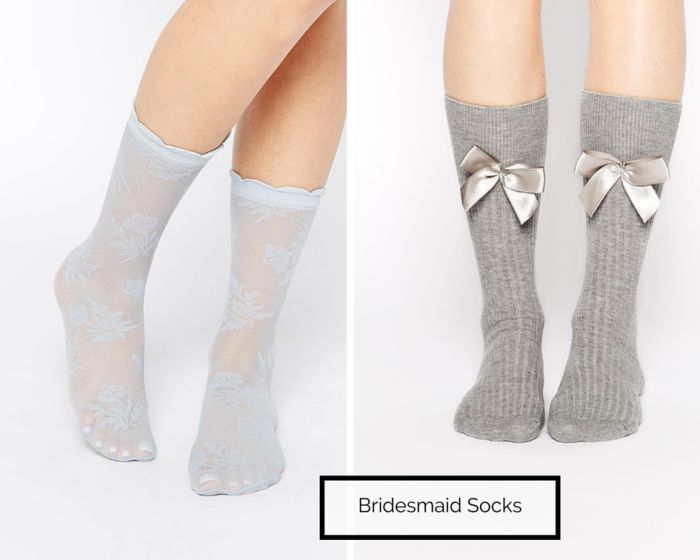 Accessories L-R:  River Island, ankle socks, €4 | ASOS, Wonderwoman logo socks, €6.85
Scarves and shawls
If it's a beach wedding you're having, then that simply means you have a whole new range of trinkets and accessories that are not just a necessity, but now also an option to personalise and gift to your bridal party. We've already discussed the endless possibilities and appeal that scarves can have at a wedding in our bridal accessories segment. Here, we have gone ahead and picked a couple for you to style your bridesmaids in too that you just might love. We particularly adore the ageless Burberry check scarf, for when that coastal breeze picks up, ensuring the bridal party will be wrapped in style.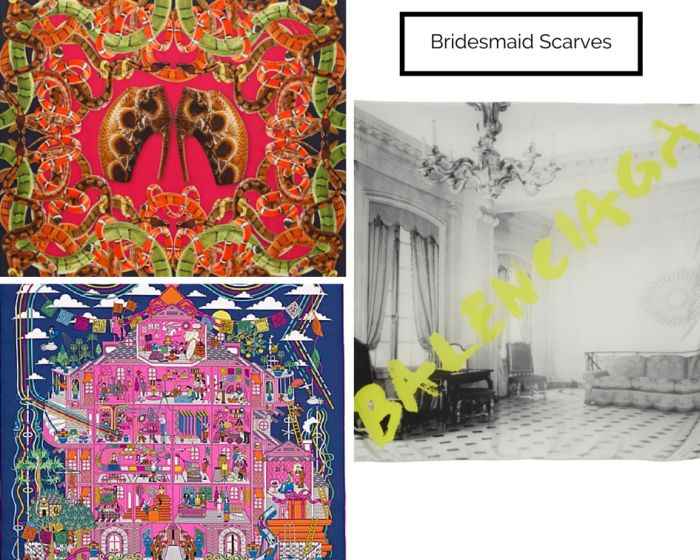 Accessories L-R: Alexander McQueen,  'Plato's Atlantis' scarf', €395 |Hermes, La Maison des Carrés, €335 |Balenciaga, Printed silk-habotai scarf, €290
 Custom headbands
Again, very similar to the beach-themed wedding favours, these personalised headbands have a very airy, dainty, laidback, boho vibe. Great for brides who want their bridal party to have a uniquely individual accessory on the day and a distinct "I'm part of the bride's close circle" token. These can be as elegant as an embroidered gold headband, or as quirky and 'avant garde' as cat or bunny ears. Their purpose is to suit each individual taste and put a smile on your friends' faces.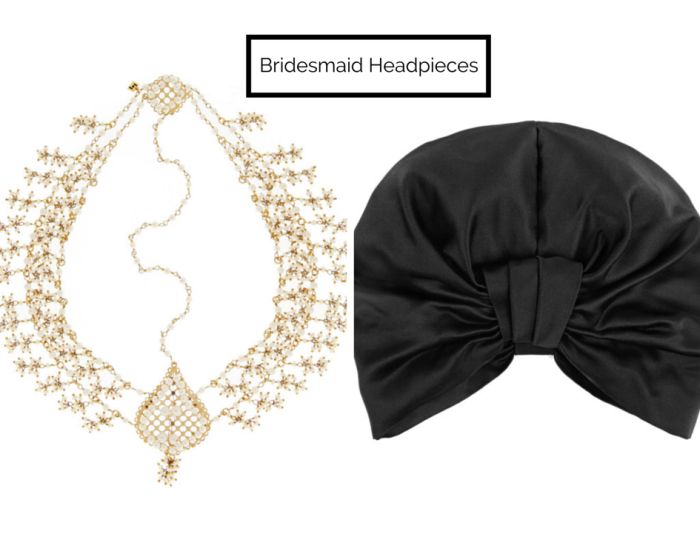 Accessories L-R: Rosantica, odalisca gold-tone freshwater pearl headpiece, €340 | Jennifer Behr, silk satin turban, €506.10.
Dressing gowns
Ok yes, a potentially tacky minefield we admit, but when done right, dressing gowns on the bridal party will create a great sense of both fun and style on the morning of the wedding. Possibly one of the most favourite group shots you and your bridal party will do on the big day will be the 'morning of' photo. Everyone loves the amount of bonding time and fun that can go into the morning of the wedding – it's the peak of your excitement throughout the entire process and, symbolically speaking, it's the last time you get alone with your girls. In this girly and fun-filled morning, fashion coordination and a subsequent photo shoot can be the best way to remember the way you felt waking up that morning. While they can sometimes be a gaudy, glue gun encrusted eyesore, we are unashamedly huge fans of the matching morning robes photo op, and have found some real beauties to suit all bridal parties.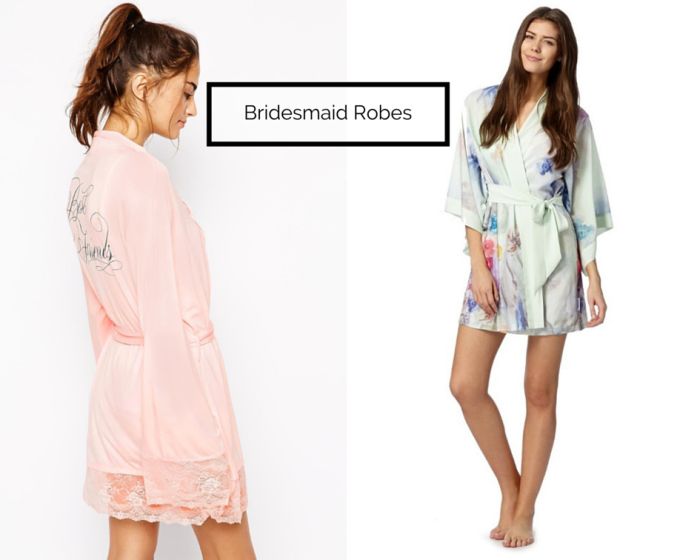 Accessories L-R: Wildfox, best friends lace dressing robe, €158.90 | B by Ted Baker, floral gown, €55.30
- Roisin Curran