There are loads of options available to help a bride avoid the torturous task of finding the perfect bridesmaid outfit that will suit each bridesmaid's style, shape and colouring. There are all kinds of mismatched options from different styles in the same colour to different colours and lengths of the same dress. But there's another option that avoids dresses altogether; how about sticking your bridesmaids in skirts instead? From tulip skirts and pleated skirts to full-full length maxi skirts, there are plenty of options to choose from. This also leaves the option of choosing different tops to match the skirts and there's even more leeway here than choosing dresses that are the same colour in different styles.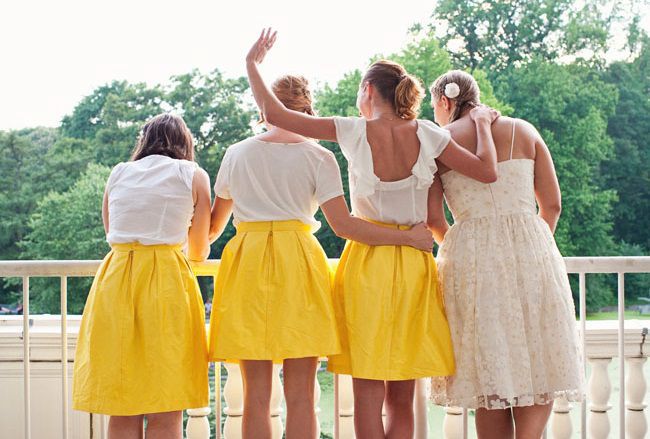 Particularly for a spring or summer wedding, skirts are a great way to give your bridesmaids the chance to show off their lovely legs, especially if your 'maids are conscious about treading on the bottom of their gorgeous floor length gown. Anything from tulip to pencil skirts will work depending on the style of your wedding and you can talk to your bridesmaids about what length and style they might like.
While there are some beautiful above the knee skirts in different styles, there's also the option of a maxi skirt to give the illusion of a floor-length gown. They can also be ideal for summer weddings in the form of beautiful maxi-style skirts, or you can use them to keep your bridesmaids warm if you're opting for a fall or winter wedding but still want to go with skirts instead of dresses.  Bridesmaid skirts also give your girls the opportunity to explore a top that suits their style the best.
- Jenny Darmody
Image Credits: Yellow skirts: Green Wedding Shoes | Grey skirts: Mollie Jane via SouthBound Bride| Purple pencil skirts: Rebekah Westover | Green and white skirts: Southern Weddings | Navy skirts: Jessica Kettle Photography via SouthBound Bride | Multicoloured minis: Green Wedding Shoes
Black skirts: Carmen Salazar via Grey Likes Weddings | Peach skirts: Alpine Images via Magnolia Rouge | Green skirts: Wedding Window | Aqua skirts: B Schwartz Photography via Style Me Pretty | Different colour skirts: SouthBound Bride