When girls move their friendships up a level from "best friends" to "bride and bridesmaids" it's like they become a different species, even if it is only temporarily.  Many are aware of the species "Bridezillas", but after working in retail for many years I have also discovered the lesser known "Bridesmaidzillas".  It's hard to explain why it happens or what comes over these women, but having witnessed many of them in action, and also having a personal bridesmaid dress wardrobe that could rival Katherine Heigl, here are some tips to ensure that all friendships remain intact after the big day!
Brides: Shop with an open mind
As the bride, you may have always had a specific colour and style in your head that you want for your bridesmaids. Nine times out of ten, this isn't going to suit them.  It may look fabulous on you, but you won't be wearing it, you shall be wearing your stunning wedding dress so don't let them spoil your wedding photos by putting them in dresses they would never wear in the first place and definitely won't be shortening to wear again. As a semi-professional bridesmaid at this stage, I can tell you that we only say this to make you feel like you are not wasting your money.  Post-wedding, the dress is still in the dry cleaning plastic – if we have even remembered to pick it up!
Bridesmaids: It's not your day
You are not shopping for your wedding day, it is your best friend's/sister's/cousin's/etc. big day, so although you should voice some opinion, do not make the bride regret asking you to be a bridesmaid in the first place. Just because you want to look a certain way, doesn't mean it will fit in with what the bride wants, and it is her special day after all. "Sexy" is not usually a look the bride is going for with her bridesmaids.  Deal with it.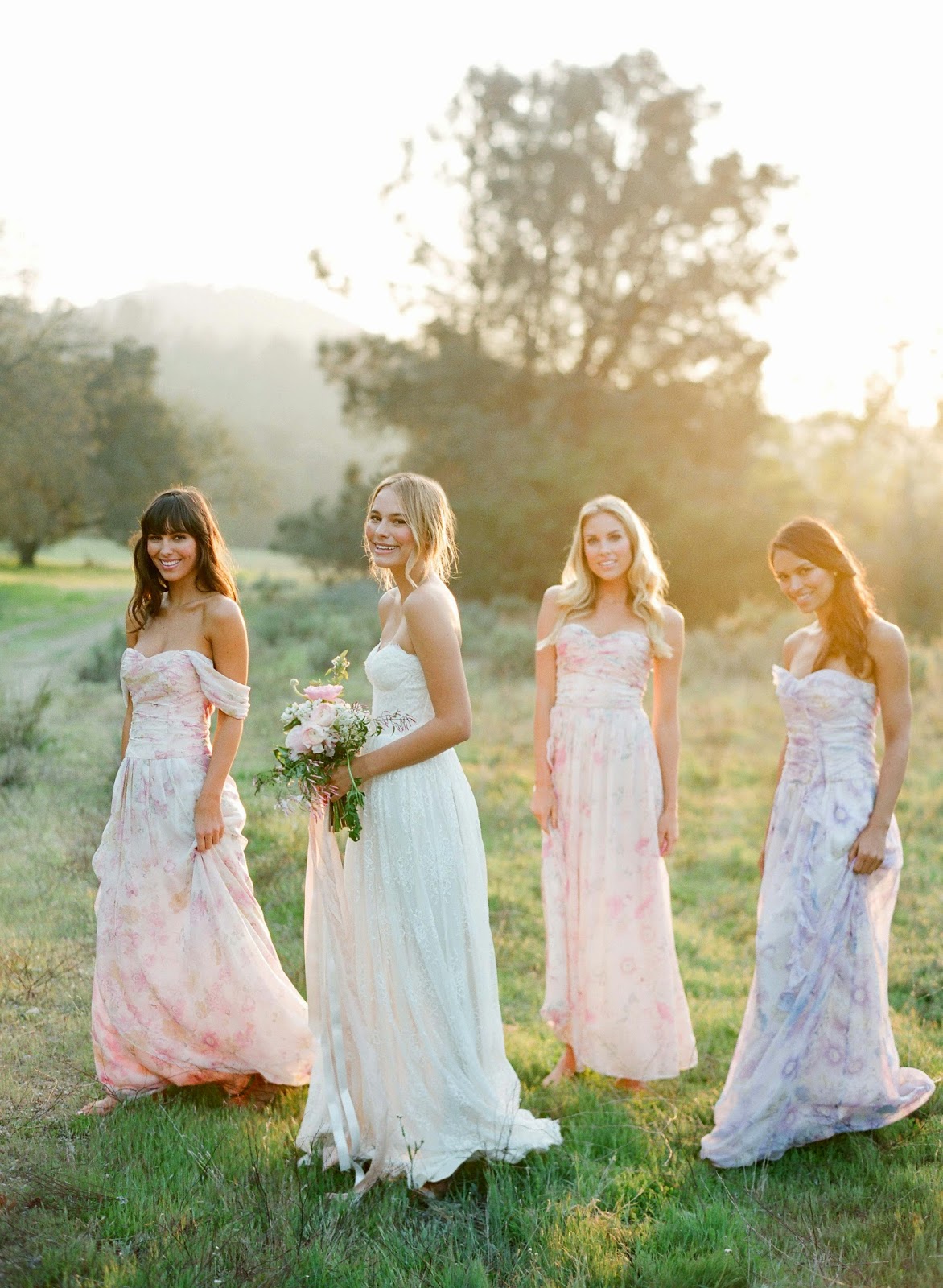 One size rarely fits all
Though it is possible, many times the same dress is not going to look good on all your bridesmaids.  If you have, say, 4 bridesmaids ranging in size from an 8 to an 18, and in height from 5' foot nothing to 5'11, a blonde, brunette, a redhead and all different skin tones, it's going to be hard to find something that suits them all and that they all feel comfortable and good in. This is where mismatching your bridesmaids might be an option. Alternatively, you can choose something like a multiway wrap dress from Eliza & Ethan You can tie the top half to suit each individual, and the skirt part is all the same.  It is also maternity-friendly, which is particularly handy when your bridesmaid tells you a month after you've placed a couple of hundred Euro deposit (that's non-refundable) on a dress for her, that it won't actually fit her on the day as she will be seven months pregnant!
Never judge a dress on a hanger
Dresses need to be tried on to see what they are really like. Plenty of dresses look a certain way on the hanger or in a picture and are completely different on a person.  Being open to trying anything can actually save you a lot of time. Trust the salesperson when they say "I know it has no hanger appeal but believe me it's gorgeous on!" They are there to help. Yes, there will always be a pushy salesperson who you wish would just mind their own business, but the good ones will point you in the right direction and then stand back until you are ready for help. It's worth taking that bit of advice when first trying on dresses, as opposed to 101 dresses later!
Shop around
You don't have to shop in a bridal shop for a bridesmaid dress.  The high street and the smaller boutiques have so many gorgeous dress options now, short and long. Don't limit yourself to the shops you think you are supposed to be shopping in. You are looking for a dress that will make your best friends look and feel fabulous standing beside their best friend on the most important day of your life.  Therefore, that should not scream satin, taffeta or strapless to you.
Buyer, beware
Be extremely careful ordering bridesmaid dresses online! And this is coming from someone whose business is an online boutique. If you are ordering a label that is sized be warned that certain brands have their own unique sizing.  It is not UK sizing, European or American, it is unique to that brand, and for good reason.  Ironically it is to get a better fit, but if you don't know their sizing you will end up with something that is the most ill-fitting thing you have ever tried and you will end up spending more than you originally wanted as alterations will be needed.  Another thing is you may see the dresses you want cheaper on an American site, don't fall into this trap. As soon as it lands in Ireland you will receive the dresses and a bill for about 30% of what you paid in customs taxes and duty and end up paying more than what the shop here in Ireland offered you! So you see, your friendly Irish shop wasn't trying to rip you off. At the end of the day, it pays to support the local economy. If you are buying something that is one size fits all, or that you are familiar with, then buying online is no problem.
Overall you have to remember you want the bridesmaids to look good and feel good.  If they are in something they don't want to be in or that they'd never usually wear, they will be fidgeting at the dress all day, look awkward in the photos and you will realise you've wasted a small fortune on these dresses that will never see the light of day again.  Save yourself the hassle by being open to their opinions, compromising on choice & your bridal party should remain a "zilla"-free zone!
- Ali Murray, owner of Alila.ie