The key to any good outfit is the fit, you can fork out thousands on a designer gown, but ill-fitting garments are instantly cheapened without the necessary alterations. Your wedding dress should mould to your body, fitting and flattering each and every bit of you. Read up on our top tips for your bridal alterations.
Include alterations in your dress budget
As somebody who alters the majority of my dresses, I would consider myself pretty familiar with the alterations process but when it comes to wedding gowns, this can all be cast aside. Altering a wedding dress is significantly more expensive and time-consuming than regular items of clothing so naturally, you can expect a higher price tag. Include a cushion in your dress budget to allow for any alterations (you 99% will need it altered in some way whether that be length or the overall fit). Depending on how much work you need to be done and the delicate nature of your dress (any embellished areas are more difficult to alter and will, therefore, be more expensive), you could spend anywhere from €150 - €500 on alterations. Avoid any nasty shocks if you are working off a tight budget and factor in a little cushion from the outset. If the pricing seems too good to be true, proceed with caution, your wedding dress is not the place to cut corners.
Time is everything
Avoid putting yourself or your bridal boutique under pressure and allow yourself ample time for finding a dress, ordering it in and then having it altered. While some ladies are lucky and find their dream dress in a sample sale and can take it home there and then, this is not the reality for most brides. Once you find your perfect dress, it can take months for this to be ordered in your size and only then can the alterations process begin which will involve roughly three fittings. Ideally, you should allow two to three months before the wedding for any alterations with your final fitting approximately two weeks before the wedding.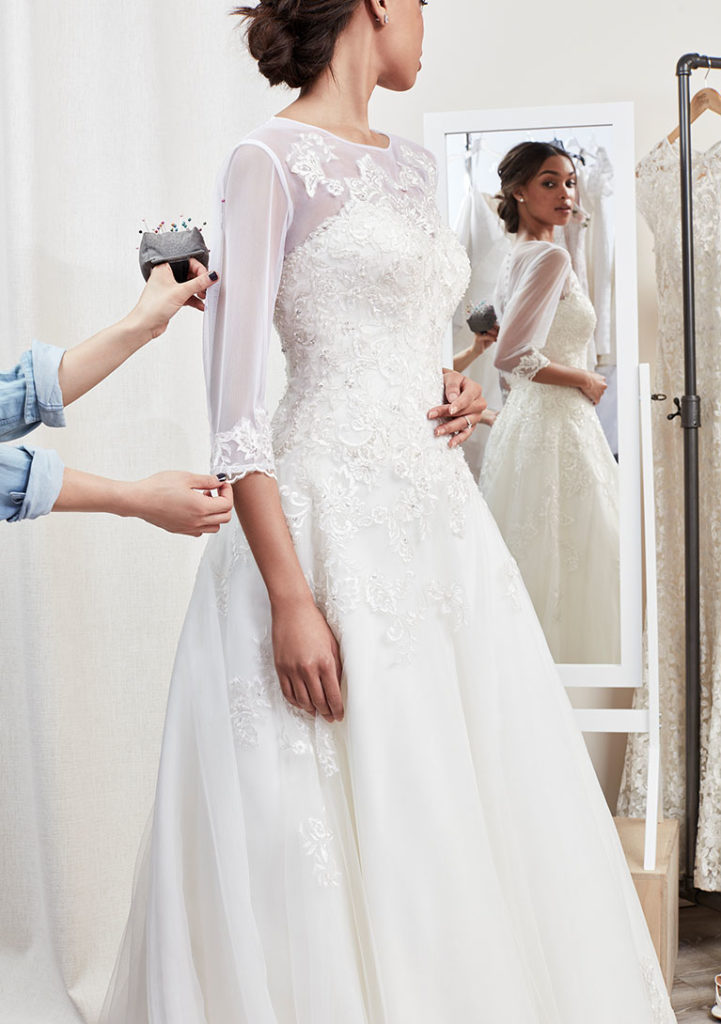 Don't be too ambitious with your wedding diet
Majority of brides try to adhere to a strict exercise and eating regime in the lead up to their wedding in an attempt to drop a dress size or so but be realistic when ordering your gown. You may envision yourself resembling a Victoria Secret model but realistically, you don't know how much your body will shrink and where. Remember it is much easier to take in a larger dress than to let out one which is too small. Generally, the slinkier the gown is, the harder it is to alter with weight fluctuations so stick to something with a little more structure if you aren't sure.
Bring your wedding heels
When having the length altered, wear the shoes which you will be wearing as you walk down the aisle, so you can get the length of the gown just as you want it to look on the day. If you don't have them yet, bring along something in a height similar to what you are looking for.
Pick a suitable length for the hemline
A hemline which just grazes the ground is the ideal length for a bride as it gives you the full-length flow but also allows you to dance and walk through your reception at ease without risking your beautiful gown being trampled on or torn. When having your dress altered, walk around the store with your shoes on once the seamstress pins up the bottom to ensure this is the length you are happy with. It's a given that any full-length gown will get a little dirty at the bottom, but this can all be looked after in the dry cleaners once the celebrations are over!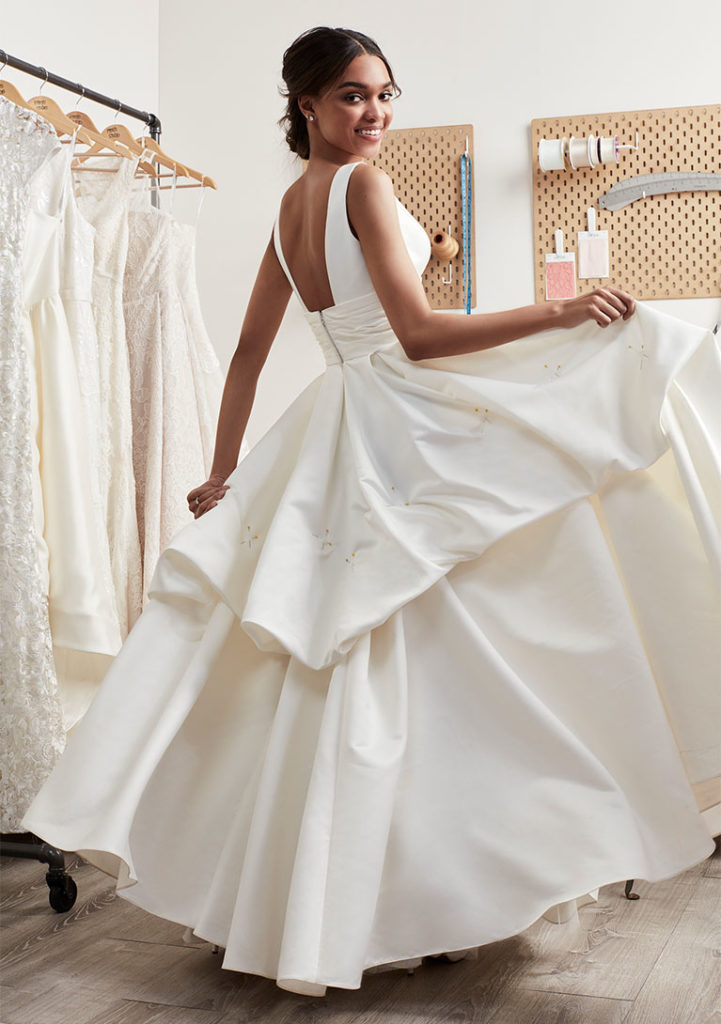 Bring along your bridal underwear and accessories
Naturally, you need to ensure that no straps or pieces of your underwear are on show so bring everything you plan to wear on the day with you, bra, panties, Spanx – we're talking the works. This will allow your seamstress to ensure that everything is tailored to your exact measurements and they can alter this knowing precisely how and where the dress will sit on you on the day. It's also a good idea to bring your jewellery, the length of your necklace may influence where you would like the neckline to sit.
Bring a second set of eyes
While you may think the decision-making times are a thing of the past once you said yes to the dress, it can be all too easy to get caught up in the beauty of the gown and allow minor details to slip through the cracks. Bring a bridesmaid or family member who you know has a great eye for attention to detail and can pick up on any ill-fitting areas or loose seams. It will put your mind at ease knowing there have been two sets of eyes monitoring all improvements, particularly someone who's opinion you know and trust.